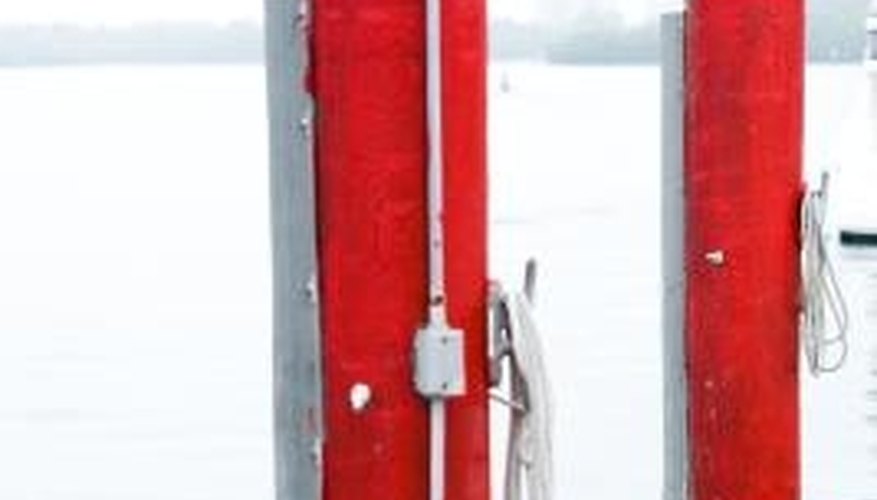 Two important factors must be considered when you are installing fence posts to prevent rotting: composition of the post material and prevention of damage by water. Posts cut from cedar or pressure-treated lumber last longer than many other wooden materials used for outdoor applications. Careful installation to protect your posts from preventable water damage is simple and well-worth the time and materials used.
Paint the bottoms and the section of the posts that will be underground with wood preservative. Allow to dry. Alternatively, set the fence posts in buckets filled with wood preservative and allow them to sit overnight.
Calculate the depth of the posthole by adding six inches to the length of the buried portion of the post. Use a posthole digger to dig the hole. Periodically measure the depth of the hole as you are digging. For secure installation, the hole should by approximately 2-1/2 times as wide as the post and slightly wider at the bottom than at the top.
Pour a couple of inches of gravel into the post hole. Use the handle of a shovel to tamp the gravel. Continue adding gravel, tamping and measuring until the hole depth is equal to the length of the buried portion of the post. Set the post in place. Ask an assistant to steady the post. Pour dry concrete mix around the post until it is about one-third full. Add water to wet but not saturate the concrete mix. Use a spirit level to plumb the post on two adjacent sides. Add more concrete mix until the hole is about two-thirds full. Add water and recheck for plumb. Continue until the concrete reaches ground level.
Place a few shovelfuls of concrete mix in a bucket, add a little water and stir. Add more concrete mix or water and stir until it reaches the consistency of cold peanut butter. Put on protective gloves. Use a garden trowel to mound the wet concrete mix around the base of the post. Using your hands, mold the concrete to form a slope that extends from two inches above ground level on the sides of the post to the outer edge of the concrete in the hole. Allow the concrete to dry, per manufacturer's instructions.
Place post caps on top of the posts. Drive nails through the holes and the sides of the caps into the posts.