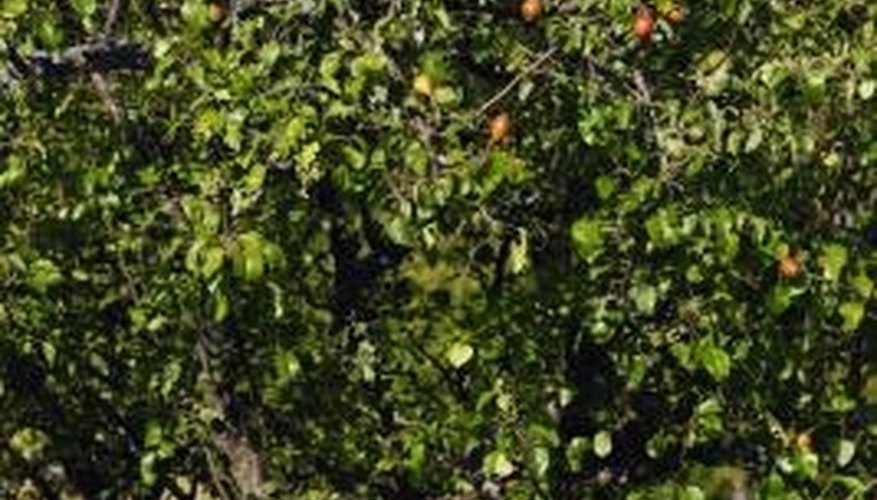 Growing fruit trees at home can be a soothing, rewarding hobby as well as fresh source of tasty food for your family. Kieffer pear trees are a relatively easy species to grow at home; they are largely disease-, pest- and drought-resistant, requiring little significant maintenance during their lifetimes. These trees can grow 4 feet a year and reach 25 feet in height. Careful planting and care can lead to a healthy, long-lasting fruit tree.
Mix 1 part peat moss or other organic amendment and 4 parts soil into an area of your garden that receives at least six to eight hours of daily sunlight. This is an ideal location for Kieffer pear, and the organic amendments will ensure good drainage. Use a soil tiller to ensure the amendments are fully mixed at least 10 inches below the soil.
Dig a hole in your soil twice as wide as the root spread of your tree and to the same depth as the tree in the bag, container or at the nursery. Spread out the roots and settle the tree into the hole. If you plant multiple trees, space them at least 8 feet apart.
Backfill the hole halfway and fill the hole with water. When the water drains, refill the hole completely and provide another 4 to 5 inches of water. This heavy watering will encourage the roots to spread and take hold.
Water the pear tree with 1 inch of water per week. Trees are highly drought-resistant, so don't fret if you are a few days late.
Surround the tree with a 2-inch layer of organic mulch, which will help the soil retain moisture and prevent weed growth.
Prune your Kieffer tree in late winter, just before the new growth of spring. Remove dead or damaged branches as well as any low-hanging branches that touch the ground.