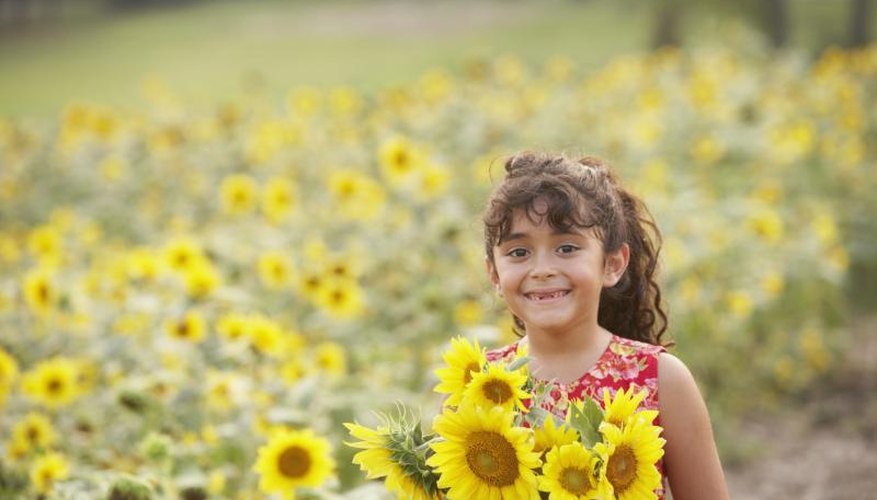 Showy and cheery, annual sunflower (Helianthus annuus) blooms vary in size from 4 to 8 inches in diameter for cutting varieties to 2 feet across for the largest types such as "Sunzilla." In height, the plants range from 16 inches for dwarfs such as "Elf" to 16 feet for the giants. Easy to grow, sunflowers generally take about two to three months to bloom after being started from seeds and three to four months to produce new sunflower seeds.
Prepare Soil
Because most sunflowers grow tall, plant them on the northern end of the garden so they won't shade other plants. Choose a position for them in rich, well-drained ground -- with a pH between 6.0 and 7.5 -- where they will receive at least six to eight hours of sunlight per day.
Because their roots reach deep to derive nutrients from the soil, sunflowers usually don't require fertilizer, and too much nitrogen can put off their flowering. If the ground is poor in the humus that supplies nutrients, work 2 inches of compost into the top 8 inches. As an alternative, spade in a low-nitrogen organic flower garden fertilizer such as 4-8-4 instead, at the rate of 1 1/2 cups for each 10 square feet of ground.
Plant Seeds
Wait until after the last frost in spring to plant the seeds: 1/2 inch deep for the smaller cutting sunflowers and 1 inch deep for the giant ones. Space seeds about 6 inches apart. If the soil is very sandy, double the planting depths.
After you are finished planting the seeds, cover the ground with bird netting to prevent feathered friends from scratching them up. You can continue to sow more sunflowers about once every two weeks until mid-summer to ensure that their bloom-time continues into autumn.
Pamper Seedlings
If you keep their soil damp, the seeds should sprout in five to 10 days. Remove the netting and continue to provide the seedlings with at least 1 inch of water per week as they grow.
When they have two sets of leaves, thin or transplant them, spacing giant types 2 feet from each other, medium varieties 1 1/2 feet apart and dwarf types 1 foot apart. If you want more than one row, space the rows 2 to 3 feet apart.
Although sunflowers usually stand tall on their own, an occasional plant may topple after it becomes top heavy. If this is a concern, stabilize the plants by tethering them to bamboo stakes while they still are young, attaching them loosely with strips of rag or other soft ties. You will need sturdy 5- or 6-foot stakes for the tallest sunflowers.
Pick Seeds
To protect developing seeds from birds, tie garden fleece or cheesecloth over a flower head soon after its petals drop. About a month to six weeks later, the back of the head should turn from green to yellow, after which you can cut that head from its stem.
Hang it in an airy and rodent-free place indoors to dry. The seeds should be ready when the back of the head darkens from yellow to brown. Pry them from that head with gloved fingers, a stiff brush or a fork.