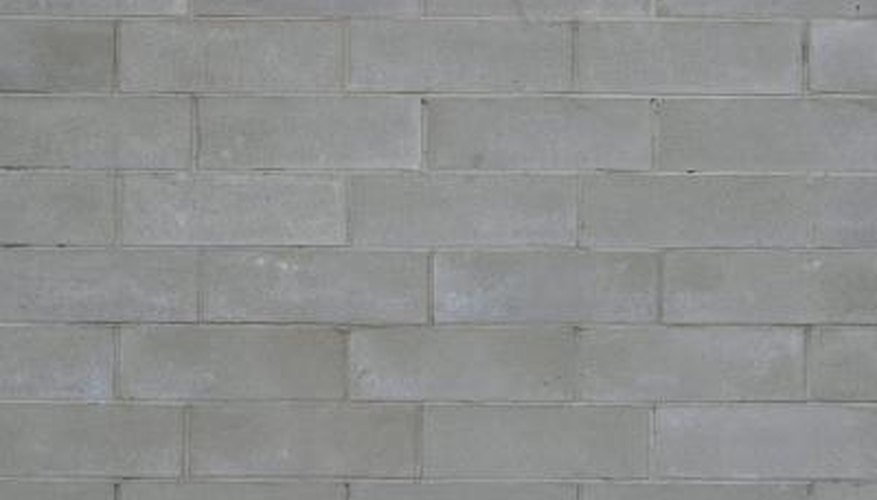 Cinder blocks, also known as concrete masonry blocks, are used commonly for building strong and long-lasting foundations. Building your home's foundation with cinder blocks allows for a spacious basement or crawlspace below the first floor. Like all cinder block walls, foundation walls are susceptible to bowing or cracking when high amounts of lateral pressure are applied. A cinder block retaining wall also commonly will bow and bulge out when heavy soil presses against it. Repairing a bowed wall early prevents it from collapsing.
Step 1
Mark where the carbon fiber strips will be applied with a pencil. The strips must run perpendicular to the biggest cracks or bulges in the bowing wall, according to Waterproof Magazine. Position one strip every 4 feet along the affected wall.
Step 2
Grind off any paint, sealant, mortar or caulk along the lines where you will install the strips. Leave a smooth and uncovered area of concrete that is at least as wide as the carbon fiber strips.
Step 3
Apply a coat of epoxy-based primer to the areas you ground if the manufacturer requires it. This primer helps the carbon fiber bond to the wall and increases its strength according to Atlas Piers.
Step 4
Fill in any cracks in the bowed wall with a concrete crack filler. Use epoxy-based fillers to allow the carbon strips to adhere strongly over the filler.
Step 5
Attach the top of the first carbon fiber strip to the metal sill plate. This process varies with different manufacturers, but most use a thick coat of pre-mixed epoxy. Repeat this for all of the straps you plan to install and allow them to cure fully.
Step 6
Pre-drill holes in the foundation sill plate at the top of the wall that match the openings on the metal plate. If the wall is freestanding, attach a line of 2-by-4-inch lumber across the top of the wall with concrete fasteners on which to mount the metal plates.
Step 7
Screw the metal plates onto the sill plate. Lift the first strap away from the wall, and squirt three lines of epoxy with the caulk gun onto the wall where it hung, according to Rhino Carbon Fiber Wall Supports. Spread the epoxy with a squeegee so it creates a bed of adhesive slightly wider than the strap.
Step 8
Cover the top of the strap with another three lines of epoxy and spread it into a thin layer with the squeegee. Drill a hole into the concrete at the base of the wall, fill it with epoxy, and run the included finishing bolt through the bottom of the strap and into the hole to secure it. Continue the process with each strap.
Step 9
Check the straps after allowing the epoxy to cure for 1 hour to ensure that all of the carbon fiber is bonded completely to the wall. Add extra epoxy if there are any loose or uncovered spots.