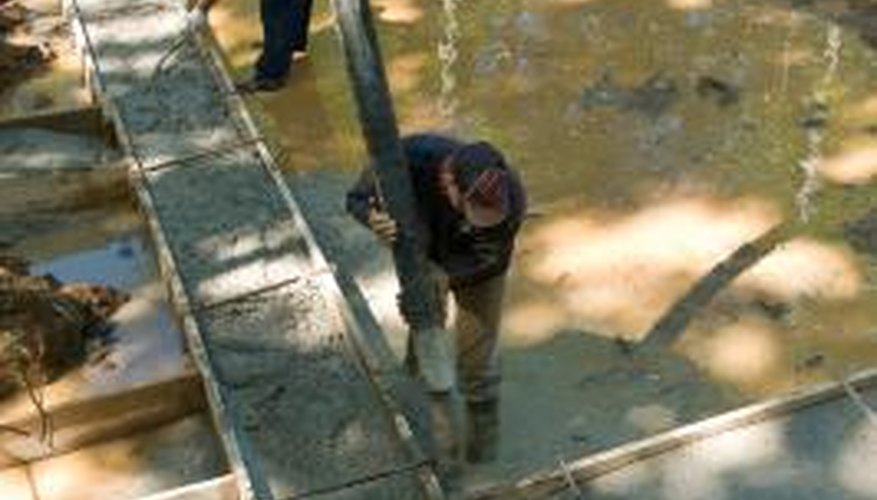 When people look at a house, they see the building itself, which extends above the ground. But underneath the house lies the footing and foundation on which the house rests. The footings are sections of poured concrete that support the concrete slab that forms the foundation. The footings extend beneath the frost line, which protects the foundation from shifting as the ground freezes and thaws.
Step 1
Excavate the ground in the location where the house is being built with a 1 1/2-ton excavator. Dig the foundation deep enough to go beneath the frost line. You can find the frost line depth in your area by contacting your local zoning board.
Step 2
Excavate a trench around the perimeter of the hole. Dig the trench at least twice as wide as the foundation walls, and add an extra foot of width so you have room to work inside the trench. Dig the trench 6 inches deep.
Step 3
Build the frame for the footing. Drive wooden stakes into the trench on both sides, placing the stakes 6 inches in from the trench walls. Use one stake every 3 feet. Place 2-by-4 boards on their narrow edges on the ground along the inside of the stakes, and nail them to the stakes, then nail a second row of 2-by-4s to the stakes. These form the walls of the footing form. Nail 1-by-4 boards to the top of the 2-by-4s across the form to provide added support for the walls when the concrete is poured into the form.
Step 4
Drive wooden stakes into the ground around the perimeter of the hole you dug with the excavator. Nail 2-by-4 boards to the wooden stakes along the inner edge of the wooden stakes, as you did with the footing form. These boards are the outer edge of the form for the concrete slab that will be the foundation of the house.