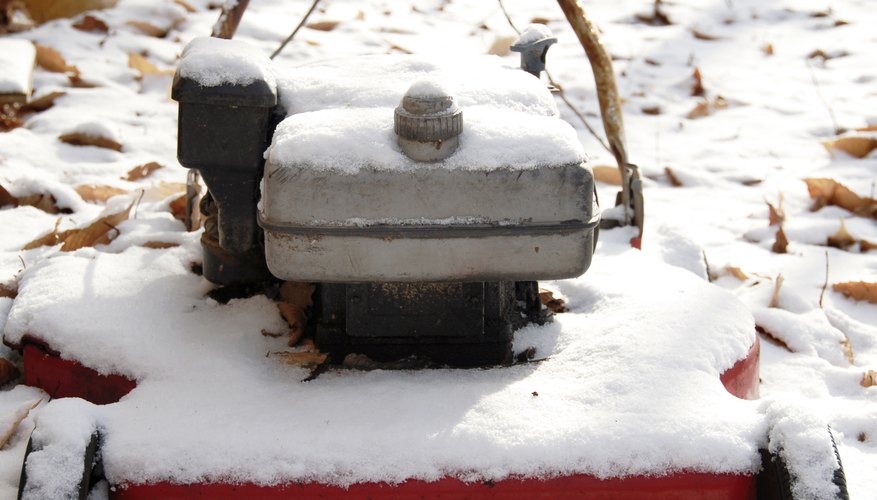 Cold winter weather is hard on mechanical equipment such as power lawn mowers. If not properly maintained and prepared for winter, your lawnmower could end up with excessive rust, a clogged carburetor, starting problems or other difficulties come spring. Taking the time to winterize your mower before it gets cold not only prevents cold weather damage but also reduces your maintenance needs when warmer weather comes around.
Gas Stabilization
Gasoline breaks down over time, leaving sediment in your tank that will clog your carburetor and cost you potentially hundreds of dollars for professional maintenance and cleaning. To prevent this, you need to either stabilize your gas or empty the gas tank on your mower. Stabilizing gas involves filling the tank and adding a fuel stabilizer that will keep it from breaking down. Emptying the tank is done by letting the engine run until it is out of gas and leaving the cap off of the tank so any remaining fuel can evaporate. If you plan on storing the mower indoors, opt for emptying the tank to eliminate a fire or fume hazard.
Cleaning and Maintenance
Thorough cleaning and general maintenance help ensure that your mower doesn't suffer rust damage during the winter and prepares it for use the following spring. Remove any dirt, dust or dried-on grass from the mower, especially under the deck, then apply a silicone spray under the deck to prevent future grass and dirt buildup. Scrape or sand any rust spots that you notice, applying rust-inhibiting paint or penetrating oil to stop additional rust from forming. While not essential, this is also a good time to sharpen your mower's blade.
Filters, Plugs and Oil
Clean or replace the air and fuel filters before putting your mower into storage for the winter to prevent issues in the spring. Depending on how much use your mower saw and how old the filters are, you may be able to simply wash out the current filters and reinstall them. Check the spark plug on your mower, looking for signs of buildup or wear and replacing it if necessary. This is also an excellent time to change the oil in your mower, as the fresh oil will keep engine seals conditioned during the winter.
Winter Storage
Once you've completed maintenance, you need to protect your mower from the elements. If you have the space available, store the mower in your garage, outdoor storage building or basement. If you don't have an enclosed space for the mower, cover it with a lawnmower cover or tarp to protect it from rain and snow that could cause rust or freezing damage.