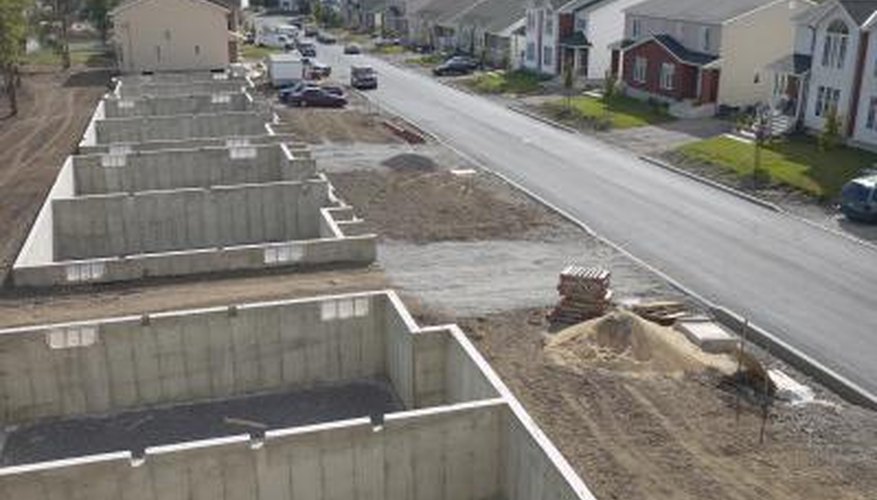 A wet basement can cause a lot of problems. Excessive moisture buildup may cause mold to appear along the walls. Also, water can cause concrete in the basement to crack. Although there are some drain solutions that can reduce water buildup in the basement, these solutions require digging, which can be time consuming and costly. There are several moisture solutions available that do not require a lot of digging or extra expense that will seal your basement.
Step 1
Add a sloped leader pipe to the end of your current downspouts for the rain gutters on the home so that they extend 10 feet away from the home foundation.
Step 2
Tape a large piece of aluminum foil on the wall. Leave it there for a few days. Moisture collecting on the wall side of the aluminum foil means water is coming through the wall. Moisture on the side facing into your basement means the moisture is coming from inside.
Step 3
Chisel out all cracks in the basement with a chisel and hammer. Clean out the holes with a stiff brush and vacuum.
Step 4
Mix a bucket of hydraulic cement according to the instructions on the side of the packaging. Press the hydraulic cement into the cracks using a trowel or a gloved hand.
Step 5
Apply foil tape to all dryer vent joints to prevent moisture from the dryer from entering the basement.
Step 6
Cover cold water pipes with pipe insulation.
Step 7
Apply a moisture sealer to the walls of the basement according to the package instructions. Moisture sealer is available from most hardware stores and is applied with a brush.