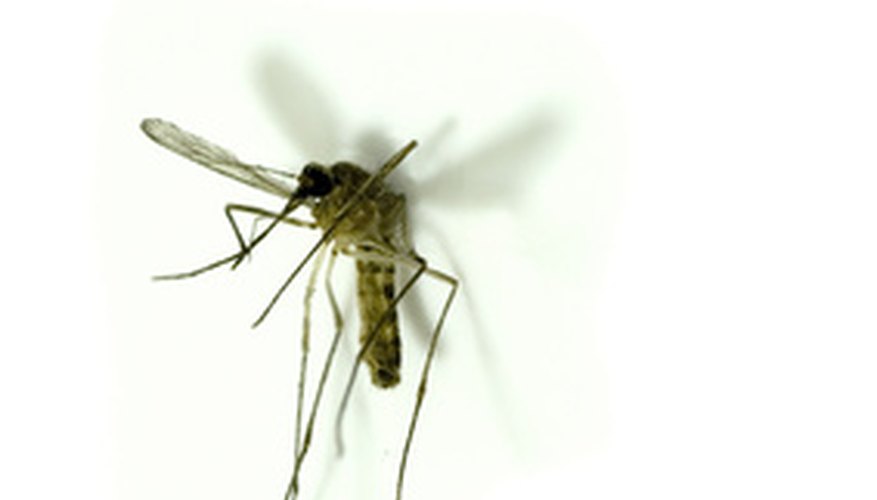 How to Make Homemade Natural Mosquito Insecticide
Mosquitoes can put a damper on any picnic or outdoor event. Not only do the bites they leave behind cause a terrible itch, but they can also transfer diseases to their human host. If you are planning a day or evening outdoors in warm weather, you will want to be armed with a homemade insecticide that has the power to kill mosquitoes. This insecticide is safe to use around children and pets.
Pour the water and dish soap into an empty spray bottle. This is the base of the insecticidal spray.
Add the Neem oil and the eucalyptus essential oil and stir. Neem oil is a natural insecticide, and the eucalyptus oil acts as a repellent.
Spray directly on any mosquito you see, or the area where you plan to have a picnic. The mosquitoes will die instantly, and the smell of the spray will keep more mosquitoes from coming to the area. Repeat as needed.
Natural Home Remedy for Mosquito Repellent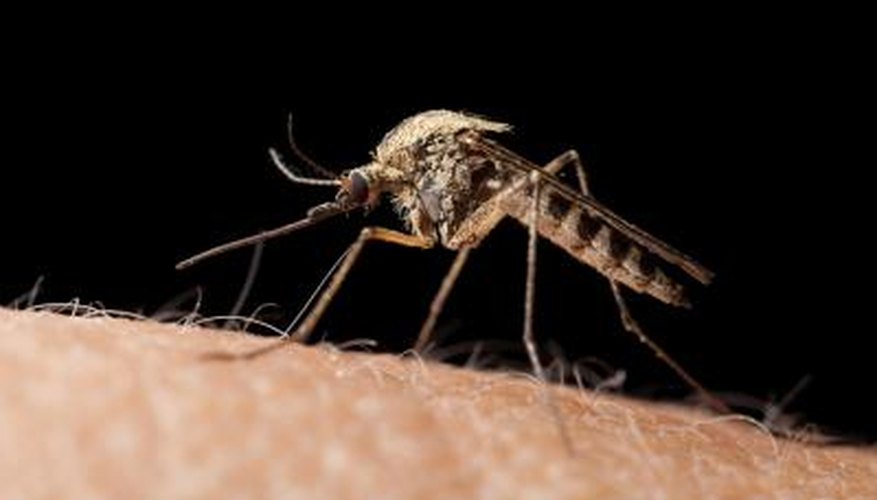 Repellents In the Yard
Mosquitoes do not like lavender, citronella, catnip, basil, marigolds, tansy or pennyroyal. Planting these in portable pots and shifting them around deck or garden seating areas can help discourage mosquitoes. Rubbing skin with the freshly plucked leaves of any one the plants—or a combination of them—also has a repellent effect.
Essential Oils
A mosquito repellent solution may be made quickly by combining one cup of 190-proof grain alcohol with a total of 2 tsp. of any one of the following essential oils or a combination of them: rose geranium, pine, rosemary, lemon, juniper, citronella, palmarosa and myrrh. Mix the ingredients thoroughly and then rub or spray the solution onto skin.
Foods as Repellents
Eating bananas, garlic or vitamin B is not scientifically proven to repel mosquitoes, although they are home remedies, according to the University of Florida IFAS Extension. Mosquitoes are attracted to individuals due by complex interactions of chemical and visual cues, not all of which are understood. As of 2010, scientists have not determined how—or if—foods interact with body chemistry to serve as repellents.
Kill Mosquitoes in Standing Water
How to Kill Mosquitoes in Your Rain Barrels
Introduce a few mosquito fish in to your rain barrel. These fish are natural predators to mosquito larvae, and will kill any mosquitoes in your rain barrel that are trying to develop in to adults.
Add a few mosquito dunks to the top of your rain barrel. The dunks are actually a larvicide that will cause the death of any mosquito larvae that munches on them for food. Most garden centers sell mosquito dunks, but if yours doesn't, you can always order some online.
The main ingredient in the mosquito dunks is Bacillus thuringiensis israelensis. It is harmless and won't hurt any children or pets it comes in contact with.
Place a fiberglass screen over your rain barrel to prevent adult mosquitoes from laying eggs in your rain barrel in the future. If the adults can't get in, they can't lay their eggs.
How to Kill Yard Mosquitoes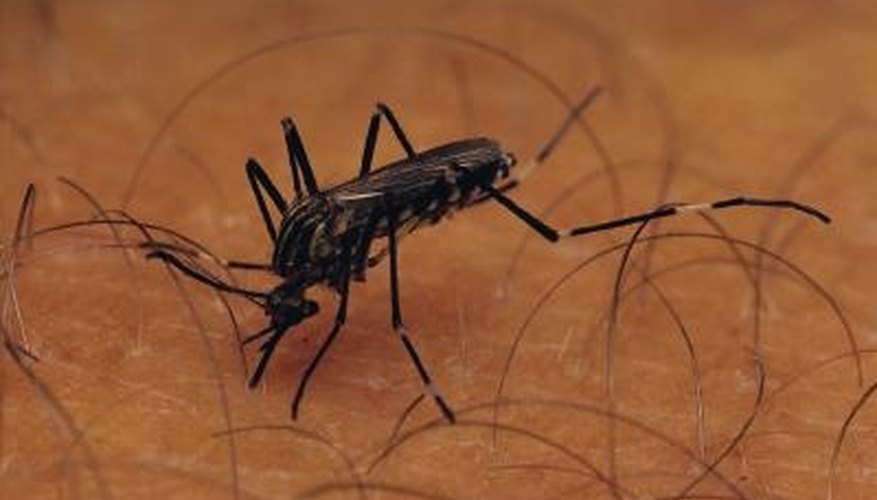 Make the yard a less desirable location for the mosquitoes. Remove any items in the yard that retain stagnant water, such as buckets or wheelbarrows. Clean out gutters on the house if they are clogged with leaves or other debris. Change the water in birdbaths at least once per day. Mosquitoes lay their eggs in still water, so they naturally seek out any location with such conditions.
Apply the product that contains either methoprene or bacillus thuringiensis israelensis to the yard. Both of these products may effectively kill the larvae of mosquitoes and prevent future problems. Follow the application directions on the product label.
Apply a pesticide to the lawn and lower limbs of trees to control adult mosquitoes. Entomologists at the University of Kentucky recommend products that contain pyrethroid, cyfluthrin, lambda-cyhalothrin or permethrin; these may be illegal in some states, so check with your local county extension office for further recommendations. Follow the product's application directions carefully as some may need to be diluted with water. Also, frequent application may be necessary for some products.
How to Keep Mosquitoes Out of the Yard
Get rid of anything that holds water. Mosquitoes breed in warm, humid areas with even small amounts of water. Put mosquito rings containing BTI, a bacteria that kills mosquito larvae, in ponds, puddles, bird baths and water barrels. Change water in children's wading pools and bird baths once or twice a week. Empty gardening cans, tarps, garbage cans, buckets, tires, flower pots, toys, car and boat covers and wheelbarrows.
Cut your grass short when mowing and remove all weeds. Trim shrubs and bushes, and clean out gutters. Smooth ruts and fill holes in your yard that can fill with water to form puddles. Rake leaves as they can hold enough water for mosquitoes to breed in.
Plant a border around your yard of catnip, garlic, onions, lemon thyme, lemon grass, citronella grass, marigolds, rosemary and basil to repel mosquitoes. Hang planters with these plants around areas where you spend a lot of time. Crush the leaves to release the scents that irritate mosquitoes.
Hang bat houses and bird feeders in your yard. Mosquitoes are attracted to the warm, moist houses and feeders, and bats and birds eat the mosquitoes.
Add between 50 and 100 fish such as gambusia to your pond. They feed on mosquito larvae. Attract dragonflies that eat mosquito larvae and adults.
Buy a fogger or spray at hardware or home improvement stores. Foggers heat insecticide and release it to kill mosquitoes on contact, but it wears off after a few hours. Sprays like permethrin or bifenthrin take a little longer to work, but they last longer.
Plants & Flowers That Repel Mosquitoes
Calendula or Pot Marigold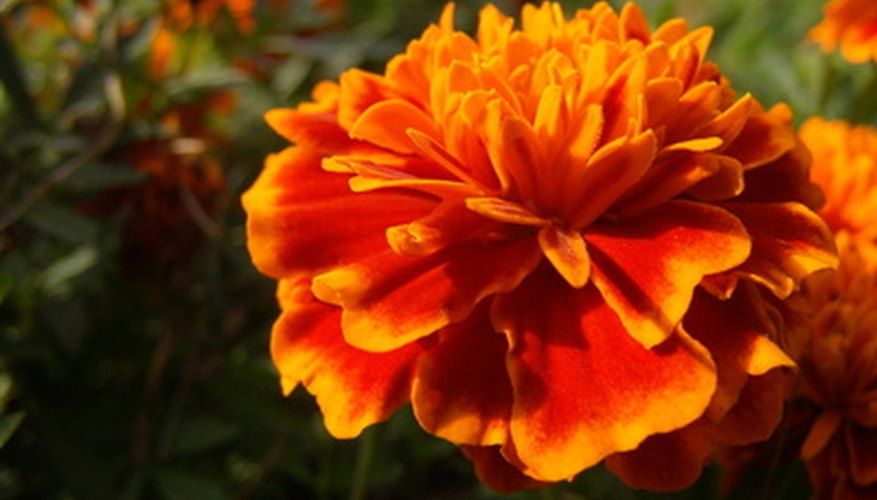 Calendula or pot marigold is a popular companion plant in vegetable gardens because its smell repels mosquitoes and other pests. The plant needs full sunlight and well-drained soil. Orange or yellow flowers appear in late spring. Pinch off the dead flowers to keep marigolds blooming all season.
Rosemary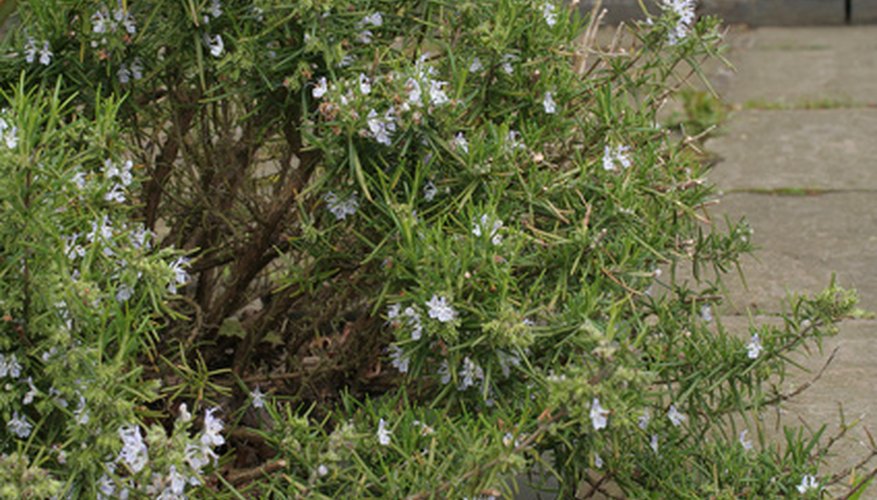 Rosemary is an evergreen perennial shrub with silver-green foliage and blue, pink or white flowers in spring. Plant rosemary in full sun and in well-drained soil. It is versatile and grows well in poor, sandy or gravelly soils. Its aromatic leaves repel mosquitoes and other pests.
Citronella Grass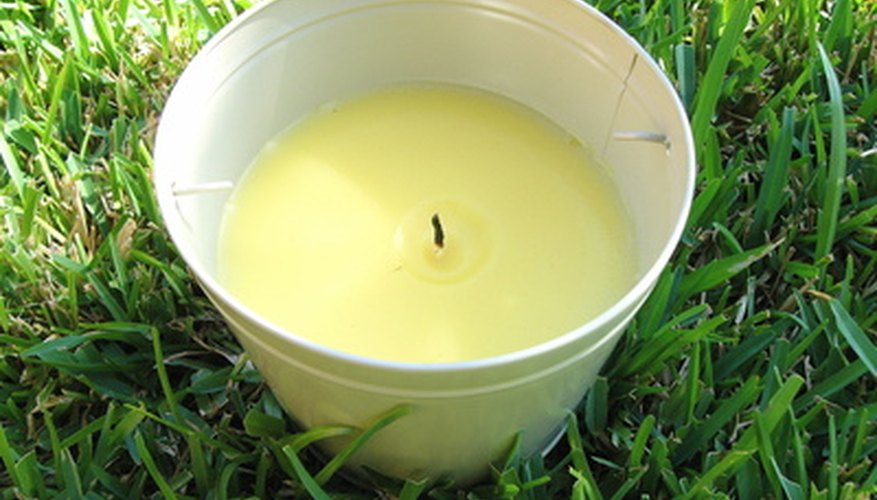 The oil from citronella grass has long been used in candles, sprays and other commercial pest repellents. This perennial herb grows well if planted in partial shade and in moisture-retentive soil. It is an attractive grass with green foliage and red base stems that mixes well with other plants in a garden bed, or can also be grown in a container.
Catnip
Catnip or catswort is an herb, most closely associated with its use in cat toys and snacks. According to a 2001 study by the American Chemical Society nepetalactone, the essential oil in catnip is about 10 times more effective than DEET at repelling mosquitoes. Nepetalactone gives the herb its characteristic odor. Plant catnip in full sun to partial shade in well-drained soil. Cut back tops of the herb when they are about 12 inches in height.
How to Get a Mosquito Free Backyard
The first step to having a mosquito free backward is to remove anything from your backward that would attract mosquitoes if possible. Some things that attract mosquitoes and help them to breed are anything that is collecting water and then sits. Check out plant saucers, candles, toys, etc. and remove any stagnant water. This is a huge mosquito attraction. Additionally, clear away any leaves and debris in your yard (especially that may be damp) and keep any standing water (like a pool) covered with a tarp or fresh (like a dog bowl.) The longer water sits the more likely it is to have mosquito eggs. You need to lessen these to get a mosquito free backward.
Mosquito Magnets Mosquito magnets are a great option for getting rid of mosquitoes and having a mosquito free backyard. They have been proven effective in many studies and have avid followers. However, mosquito magnets are an expensive way to get rid of mosquitoes in your backyard and run about $300-$500. See the link below to learn more about mosquito magnets.
Cutter Bug Free Backyard Spray Concentrate This product is a spray that you can buy that cuts down on mosquitoes in your yard. It is safe for children and pets and according to many reviews it works extremely well by stopping mosquitoes from hatching in your yard as well as repelling them when they attempt to enter.
How to Kill Mosquitoes in Water Gardens
Stock your water garden with fish (e.g., goldfish or koi), tadpoles and frogs, which feed on adult mosquitoes, as well as the larvae.
Add a pesticide with the biological element Bacillus thuringiensis, which will kill mosquito larvae in your water garden. Bt is available for ponds and should be applied strictly according to the manufacturer's directions so that you do not harm any wildlife or plants.
Install a bat house near your water garden. Bats prey heavily on mosquitoes.
Set mosquito traps around your water garden. Mosquito traps attract, trap and kill mosquitoes through the use of toxic pheromones or deadly food bait.
How to Make Mosquito Repellent at Home
Measure two to three teaspoons of catnip essential oil into a spray bottle. Use up to five teaspoons in heavily mosquito-infested areas.
Add one cup of jojoba or olive oil to the spray bottle or use the carrier oil of your choice (see Resources).
Screw the spray nozzle on the bottle and shake well to mix.
Spray on clothing and exposed skin before going outside. Only spray on the clothing and not the skin of children.
Store for one week at room temperature or up to one month refrigerated. Shake before each use.