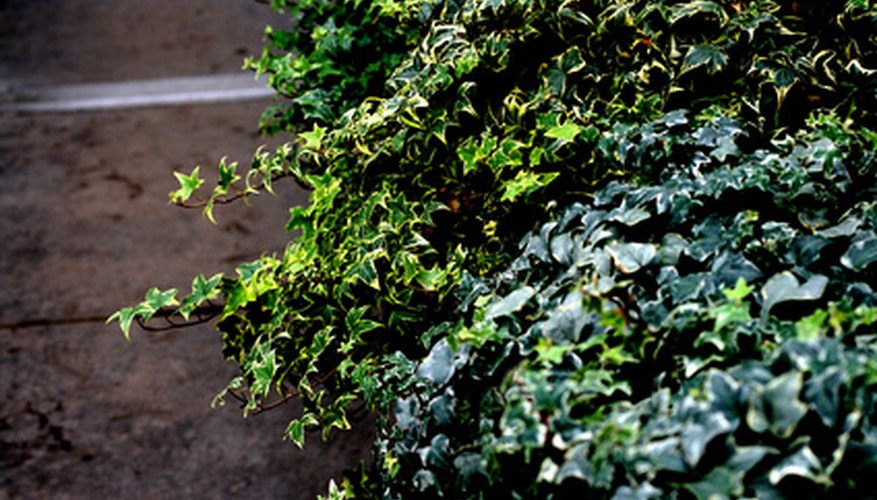 Ivy Plant Leaf Disease
English ivy (Hedera helix) is an evergreen vine that is used as a ground cover in shady areas. It can be trained to grow on a trellis, as well as a rock, brick or other rough-textured wall or surface.
Conditions for Diseases
English ivy is more prone to leaf diseases during the wet season or when the foliage remains constantly wet from overhead irrigation. Leaf diseases can be particularly destructive and even fatal.
Fungal Leaf Spots
Fungal diseases cause reddish-brown to brown spots on the leaves of infected ivy plants. Phyllosticta concentrica causes the leaves to drop off and blights the twigs. Colletotrichum trichellum also infects the stems, causing them to collapse and die. Scabby raised brown spots are caused by Sphaceloma hederae.
Bacterial Leaf Spot
Pale green water-soaked spots are caused by the bacterium Xanthomonas hederae. The leaf petioles turn black and die too. The disease may spread into older wood and form cankers.
Other Leaf Diseases
Powdery mildew resembles patches of white dust on the leaves of affected plants. The patches can spread to cover the entire leaf. Gray mold is a fuzzy gray coating on affected leaves that also can cover the entire leaf.
Prevention and Treatment
Water English ivy early in the morning so the foliage can dry during the day. Remove and destroy any infected leaves or stems. Clean dead leaves and other debris from around plants. If fungal leaf spots have been a problem in past seasons, apply a fungicidal spray in spring and summer during active growth. Use a fungicide approved for English ivy and follow the manufacturer's directions.
How to Fertilize English Ivy
Use a liquid fertilizer, such as fish emulsion or crystal pellets that will dissolve in water. Liquid fertilizers will be easier to apply to the spreading and draping ivy than sprinkling dry fertilizers over the vines.
Mix the fertilizer with water according to the proportions indicated on the package. Use a watering can with a long spout.
Apply the fertilizer by gently moving the ivy back and using the spout to pour out the water-fertilizer mix at the base of the plants.
Fertilize at the beginning of the growing season, in early spring, when the weather begins to warm up. Fertilize again once or twice a month during the growing season, as liquid fertilizers tend to last only about 2 weeks. If your plant is healthy and growing well, once a month or once every other month may be adequate.
How to Care for English Ivy in the Winter
Prune English ivy by 1/3 to 1/2 of its height in autumn, using garden shears, hedge pruners or a lawn mower set on the highest setting. Leave at least 3 inches of the plant intact, as shearing the ivy too short can damage the plants.
Water English ivy deeply before the ground freezes in winter, especially if the fall months have been dry. Watering is important, as wet soil will act as an insulator. Don't water the ivy if there is already snow or ice on the ground.
Spread 2 to 3 inches of organic mulch such as straw or pine needles around the plants after the ground freezes. Mulch will protect the plants from damage caused by freezing and thawing. If the ivy isn't protected by a snow cover, lay evergreen boughs over the plants. Boughs from a Christmas tree work very well.
How Much Does English Ivy Grow in a Year?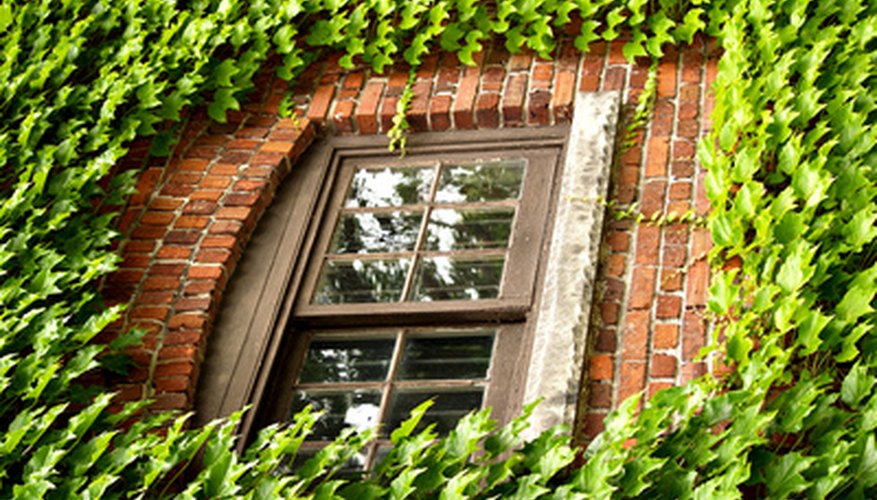 Native to Europe, English ivy (Hedera helix) is a popular ground cover and vine common in institutional landscapes. On the ground, its stems of large, lustrous three-pointed green leaves grow up to 3 feet per year. Planted as a climber, English ivy grows up to 9 feet annually.
How to Train English Ivy to Grow Up a Wall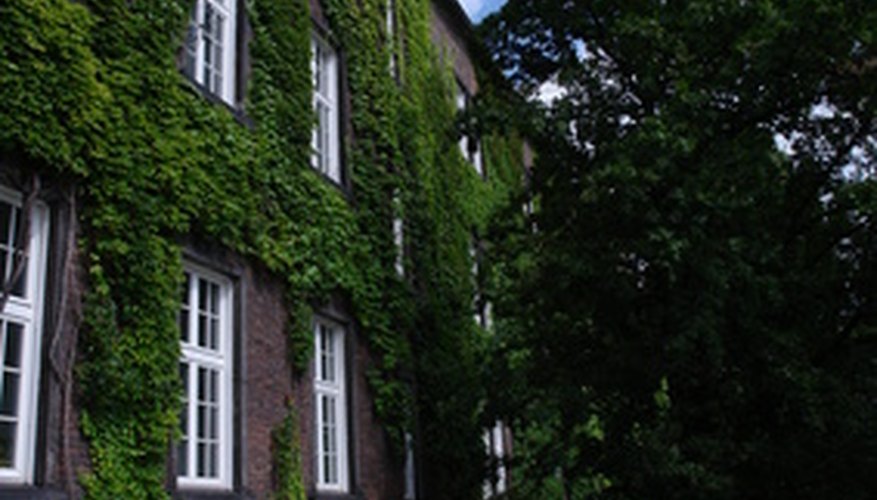 Step 1
Plant English Ivy along the bottom of the wall. Water during weeks without rain for the first year to the equivalent of one inch of rainfall a week. After the first year it should be established and not require supplemental watering. Plant new English Ivy plants 12 to 18 inches apart, says Garden Guides which also recommends trimming the tips at least yearly to encourage branching and to make them fuller.
Step 2
Use thin bamboo plant stakes to hold the vine against the wall. Place the stake so that it serves to push the vine against the wall.
Step 3
Continue to tie up the vines. When the vines grow and fall back down readjust the stakes to support the next section of vine until it has roots that are anchoring it against the wall.
English Ivy Growth Rate
Stats
According to the University of Florida, there are several species of English ivy; exact growth rate and growth stats will depend upon the cultivar. As a ground cover, English ivy commonly grows between 6 to 12 inches tall, however it can climb up trees and buildings up to 50 feet tall.
Facts
Once the ivy has reached a point where it can go no higher, it matures and will bloom with white flowers and blackish purple seeds.
Considerations
English ivy is considered invasive because it engulfs and overtakes trees when uncontrolled. According to the Plant Conservation Alliance, English ivy has drastically disturbed the environments in 18 U.S. states and in the District of Columbia, with its aggressive growth patterns.
Is English Ivy Toxic to Dogs?
Why Dogs Eat Plants
Dogs eat greens for different reasons, according to veterinarian Holly Nash. Dogs might eat grass to help an upset stomach or because they like it. It's thought that dogs -- like their wild cousins, wolves and coyotes -- would eat the greens found inside their vegetarian prey. Puppies eat plants to learn about them, but chewing on English ivy is dangerous.
English Ivy Toxin
English ivy contains a component called Triterpenoid saponins (hederagenin). This toxin is what makes a dog sick if it eats English ivy. Triterpenoid saponins (hederagenin) can also make cats and horses sick.
Side Effects
English ivy leaves are more toxic than the berries. If a dog eats the leaves, it could suffer from abdominal pain, diarrhea, drooling and vomiting.
English Ivy Aliases
English is also called branching, California, glacier, needlepoint and sweetheart Ivy. If your dog likes greens, and you're concerned that it will eat and get sick from English ivy, avoid purchasing any of these ivies the next time you're at the nursery.
Why Does English Ivy Die?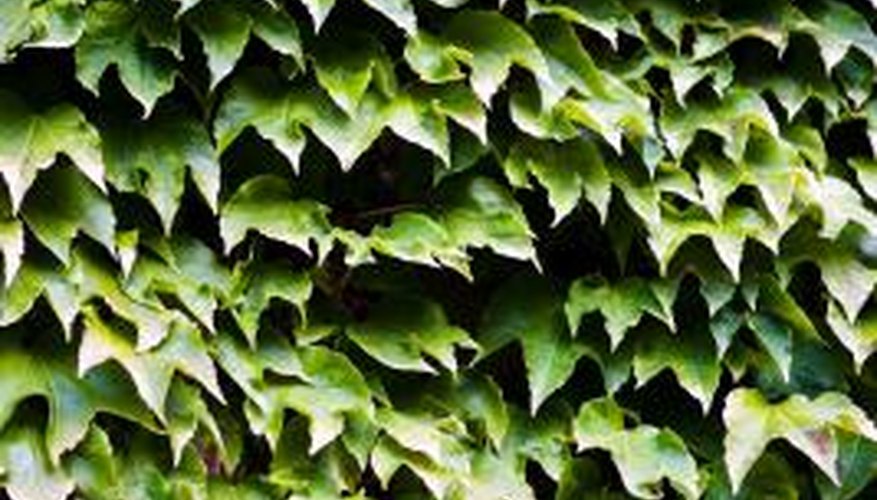 Excess Water
Too much water is damaging for English ivy. Its root systems cannot receive oxygen if the soil is too moist or if the roots are in standing water, and the leaves of the plant will begin to turn brown and die. Excess water in the growing environment drowns English ivy.
Anthracnose
Anthracnose, or root rot, is a fungal disease that affects English ivy. It causes brown or black spots to form on the leaves of the ivy; these spots release spores that spread the anthracnose to other plants. Eventually, root rot kills English ivy. Remove affected English ivy from the garden to protect the rest of the plants.
Bacterial Disease
Bacterial diseases can also cause English ivy to die. Bacterial leaf spot affects the leaves of the English ivy, causing small black spots to appear and ooze as the bacteria spreads. It also affects the stem of the plants. This bacteria thrives in moist soil that does not drain water quickly.
How to Kill English Ivy with a Homemade Herbicide
Combine 1 cup of salt and 1 gallon of white vinegar in a cooking pot. Heat the solution on the stove, stirring until the salt dissolves. Remove the solution from the heat and allow it to cool.
Add 8 drops of liquid dish detergent to the cool mixture and pour the solution into a spray bottle. Use a funnel to help you with this step.
Spray the English Iv's leaves and stems with your homemade herbicide. Be careful not to inadvertently spray nearby vegetation, such as grass, flowers and plants.
Does English Ivy Need Sun or Shade?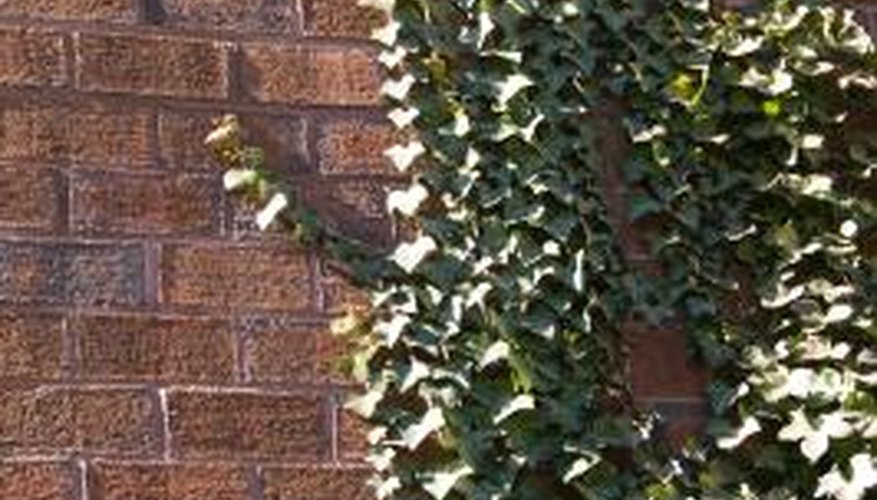 Light Requirements
English ivy will grow in almost any site, but it needs shade to part shade to perform best. Evidence of this are the large stands of ivy that can be seen in forests and shady suburban thickets.
Planting
Ivy grows well on a shady slope or where overhanging branches provide dappled shade. It can be planted to grow up a masonry wall with a northern or eastern exposure. Full sun can dry out newly planted ivy, so mulch the roots lightly if planting in full sun and keep the soil consistently moist until the roots are established.
Warnings
English ivy is a vigorous grower and can quickly take over gardens, trees and structures. In fact, Oregon named English ivy a noxious weed in 2001. Clip ivy as it creeps out of bounds and up trees and structures.
How to Winterize English Ivy
Fertilize with a time-release fertilizer in September. This application will allow the plants to remain vigorous when the first hard frost occurs in late fall.
Water the plant bed thoroughly if the fall has been extremely dry. The cold soil and harsh winds of winter do not allow the plant to replace moisture quickly; watering will help prepare it.
Prune any dead growth. Also prune the ivy bed to maintain its shape.
Remove any fallen leaves and other debris from the ivy bed. Since English ivy is very dense, you will need to use a leaf blower for this task. A rake will get caught in the vines and tear off leaves. It could also rip up the vine.
English Ivy Removal
Cut aerial Ivy from the ground with pruning shears. If you are trying to remove ivy from around the tree, cut the ivy down to about ankle heigh in a circle 3 to 6 feet wide around the tree. If you are trying to remove it from a wall, just cut any ivy vines attached to the wall. The high vines will not be able to reroot, and will dry out on their own.
Pull out the Ivy roots by hand. If the Ivy roots are stubborn or the ground is particularly dense, you may want to dig them out instead. If the ivy plant is on a slope or in any area prone to erosion, you may wish to skip this step.
Thoroughly cover the ivy plants with boiling water if there is a whole mat of it and there is nothing you want to survive nearby. Be careful to fully cover the plant. Boiling water will kill English ivy and any other plant.
Plant native ground cover after your kill English ivy. Grass, shrubs or other native plants will stop any spare roots you missed from regrowing.
Eradicating English Ivy
Cut all climbing vines at ground level with the pruning shears.
Pull as many of the cut vines from all tree trunks and fence posts as possible. Remove as many of the vines as you can. Ensure any vines that remain are cut at ground level.
Remove all ground ivy by using the hand mattock. Dig the ground and pull the roots from the soil. Missing one or two root structures will be satisfactory as removing the majority of the roots will begin to eradicate the ivy.
Cover the root area with a thick layer of coarse woodchip mulch. Check the area twice a year. Remove any new growth of the English ivy that protrudes from the mulch.
Consult your local agricultural extension service for their recommendations on specific herbicides if the mechanical methods prove futile.