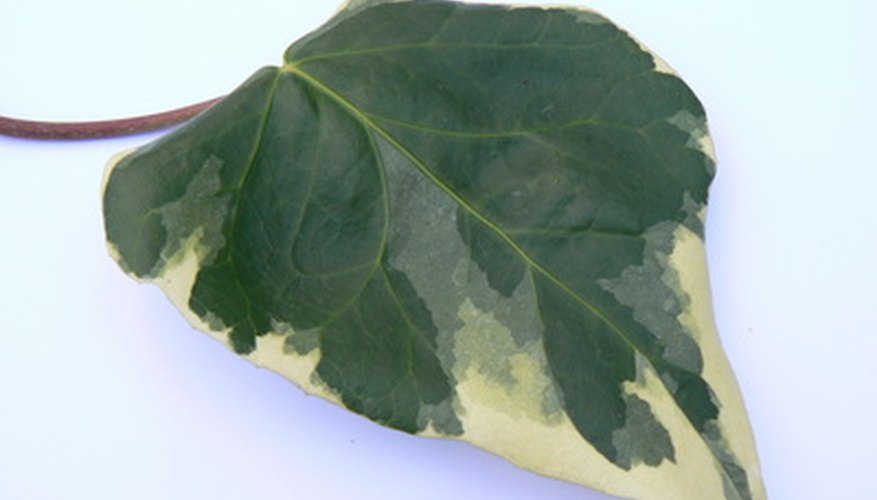 When searching for indoor ivy plant types, realize that their versatility is twofold; not only is there variety in ivy cultivars for indoor use, but the way in which ivy can be displayed is also diverse. They can be potted, hung in baskets, placed on a trellis, or used in topiary, according to the Clemson University Extension. Indoor ivy thrives in bright, indirect sunlight and prefers nutrient-rich houseplant potting mix with good drainage.
Algerian Ivy
Algerian ivy (Hedera canariensis), also referred to as Canary Island ivy, is an indoor ivy plant type that displays large glossy leaves that resemble the shape of a heart and reach a length of 4 to 6 inches. Algerian ivy has a rapid growth rate, so it's best displayed indoors in a hanging basket. A widely used gray/green cultivar is Glore de Marengo.
English Ivy
English ivy (Hedera helix) is a widely used indoor ivy plant type available in hundreds of cultivars that are diverse in color, shape and size. Some cultivars of English ivy include Calico (small, triple-lobed leaves with white centers), Curly Locks (large leaves that curl), Jubilee (a miniature cultivar with gray/green leaves and cream-hued edges), and Spectre, (a large-leafed, cream and grey clumping ivy).
Nepal Ivy
Nepal ivy (Hedera nepalensis) is an indoor ivy plant type with a delicate aesthetic quality. Its gray/green leaves atop thin stems create an appearance of lace when placed in a hanging basket.
Irish Ivy
Though usually grown for outdoor use, Irish ivy is well known as an indoor plant thanks to the cultivar Sweetheart Ivy. Another indoor cultivar is Deltoidea, which has a slow growth rate, and displays dark, textured leaves.