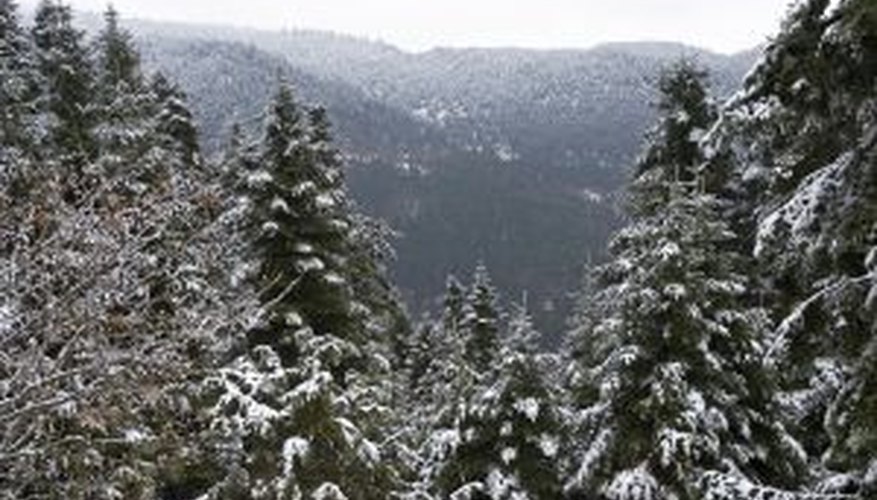 How to Flock a Christmas Tree
Combine 2/3 cup starch with 2 cups of soap flakes in a medium bowl.
Stir in 2 to 4 tbsp. of water, a tablespoon at a time, until the mixture has a thick, stiff consistency. Stir in food coloring a drop at a time until you have a glistening white color.
Put the tree securely in a tree stand, and take it outside and set it on a flat, level surface, such as a sidewalk or driveway. Put on safety glasses or goggles and a face mask.
Spray or brush the flocking gently down and across the outer tops of the branches, starting at the top of the tree and working your way down. It is better to have to apply a second coat than to have too much.
Work around and down the tree, applying an even, light application of flocking. Flock only the top sides of the boughs; snow would not cling to the undersides in nature.
Sprinkle a light coat of glitter before the flocking dries if you are using homemade flocking.
Allow the flocking to dry completely before putting the tree in your house.
How to Play Christmas Party Games
Start the party with a version of "rock, paper, scissors" in which players use their whole bodies instead of their hands. Play "elf, reindeer, Santa" and devise a stance for each element. Elf beats reindeer, reindeer beats Santa, and Santa trumps elf. Two players stand back-to-back and on the count of three "face off" with their stances. The winners play until one winner is left.
Write Christmas-related words and phrases on small slips of paper. Fold them and put them in a fishbowl. Divide into two teams and play Christmas charades.
Print special Christmas bingo cards and have a lively round or two. Give kitschy prizes to the winners.
Give each guest a piece of paper with the letters A through Z printed down the left side. Set a timer and ask them to come up with a Christmas word for each letter. The guest with the most words wins.
Place common holiday items inside a stocking and stuff wrapping paper on top so guests can't see inside. Pass the stocking around, allow each player to feel the bag from the outside and have each one write down what they think is inside. The person with the most correct guesses wins.
Potting Soil for Christmas Cactus
Christmas cactus adds color to your indoor environment during the dark days of winter, as the plant pops out masses of vivid blooms around the winter holidays. Proper soil is crucial, as Christmas cactus, like all succulents, may rot in poorly-drained soil.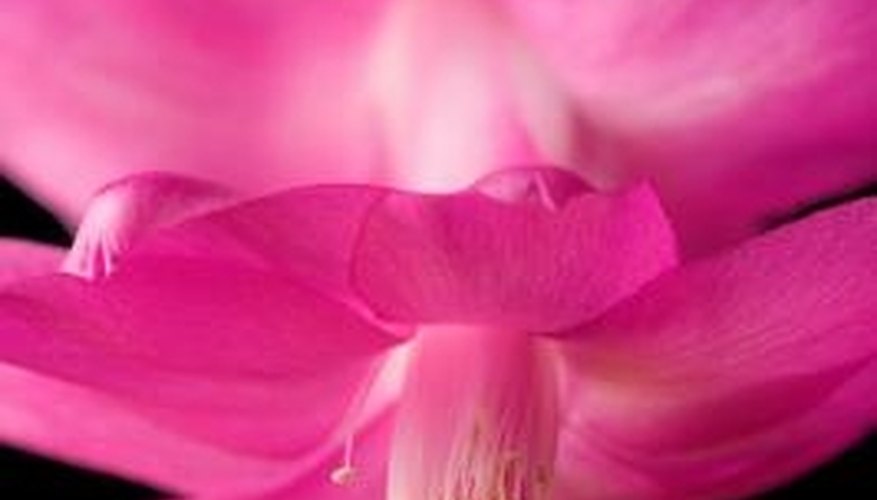 Soil
Plant Christmas cactus in a mixture of 2 parts general-purpose potting soil and 1 part clean sand. The mixture will ensure that the plant drains properly, as Christmas cactus will rot in soggy soil. Alternatively, plant Christmas cactus in a good quality commercial potting soil for succulents or cactus.
Repotting
Christmas cactus may need to be repotted if the soil dries quickly or if the plant appears wilted, even with adequate water. Move the plant into a container only one size larger, then fill the container with fresh potting mixture. Be sure the container has a hole in the bottom so the soil will be able to drain freely.
Watering
Poke your finger into the soil to determine whether the Christmas cactus needs to be watered. Water the plant whenever the top inch of the potting mixture feels dry to the touch. Water thoroughly, then let the extra water drain through the hole in the container. Don't depend on a regular watering schedule, as water needs will vary, depending on room temperature and light.
How to Write a Christmas Letter to Employees and Business Associates
Think of what topics you wish to address, and elaborate on them to create an outline of your letter. Determine which achievements or milestones should be recognized. Include new locations, expansions or new product lines.
Wish the associates a warm, happy holiday season in the first paragraph. Recognize several of the winter holidays--Hanukkah, Kwanzaa and Christmas.
Tell the employees how much you appreciate their hard work in the second paragraph. Recognize people who made advancements within the company, celebrated a milestone or joined the staff.
Praise the employees on the goals that were met this year. Remind them of the positive moves the company made, and reaffirm that it takes a team to achieve those goals.
Wish them a wonderful holiday season with family and friends to close the letter. If the company is planning a holiday gathering, remind them to join in the festivities.
Print the letter on seasonal letterhead.
Include employee letters with paychecks or the newsletter preceding the Christmas holiday. The ideal place is with a paycheck that includes a holiday bonus. Mail the letter to business associates and independent contractors.
How to Decorate Styrofoam Balls for Christmas
Sketch out your design on a piece of paper until you are happy with it, then use a pencil or marker to transfer the design onto your Styrofoam ball.
Paint your ball. Use a can of spray paint if you want to do it quickly and easily. Don't forget to protect the surrounding area with newspaper or a tarp. Silver or gold metallic, or red and green are good colors to use for Christmas. Alternately, cover the ball with fabric, first spraying it with glue to ensure the fabric clings to the ball. See the link in the Resources section below for a pattern to use on fabric-covered Styrofoam balls.
Add embellishments. Dab the ball with white glue and roll it in glitter, or use straight pins to attach items such as beads, lace, sequins and ribbons.
Include a string looped at the top so that the ball can be hung as an ornament on the tree or hung from the center of a Christmas Wreath. To do this, create the loop, then secure the ends of the strings into the ball with straight pins.
How to Decorate for Christmas With Angels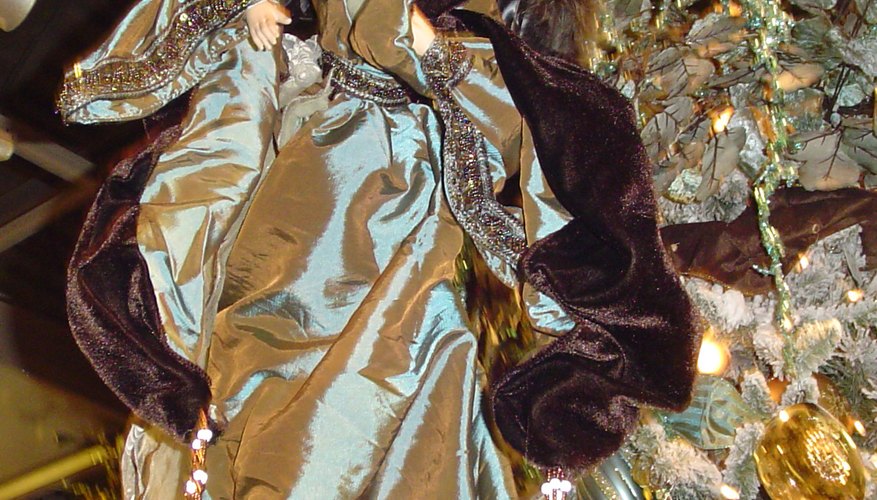 Hang large, ornate angel figures on wires from the ceiling in a group or alone. Choose a place with good lighting to spotlight the angel(s).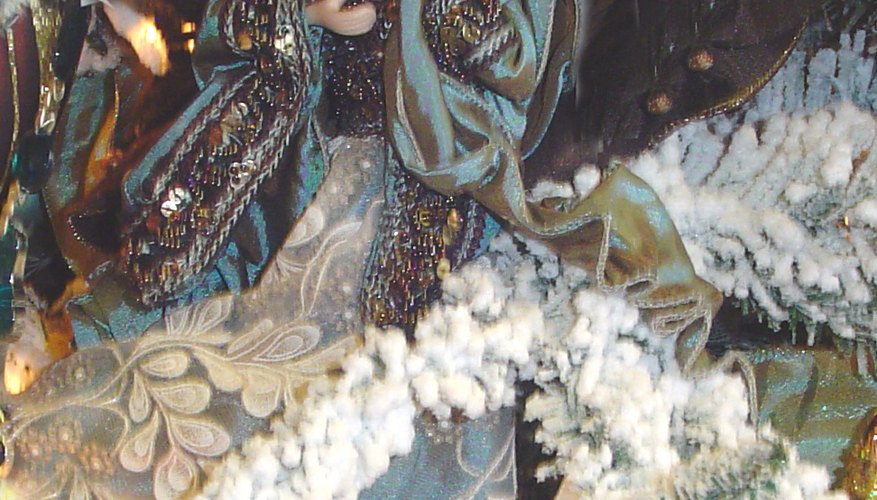 Choose angels in coordinating color themes to grace your Christmas tree.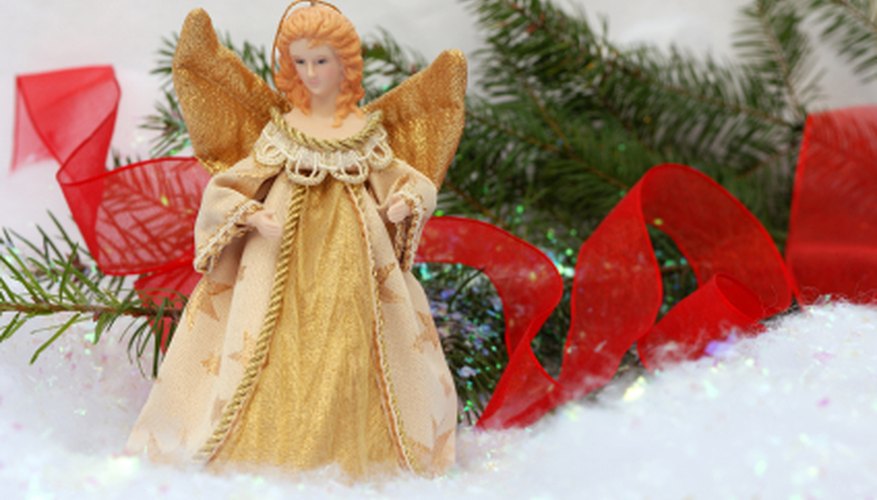 Use an angel in a still life scene on a table at Christmas, perhaps with a candle or as part of your nativity scene. Assemble props to fill out your tableau, such as curling ribbon and boughs of pine in a nest of artificial snow.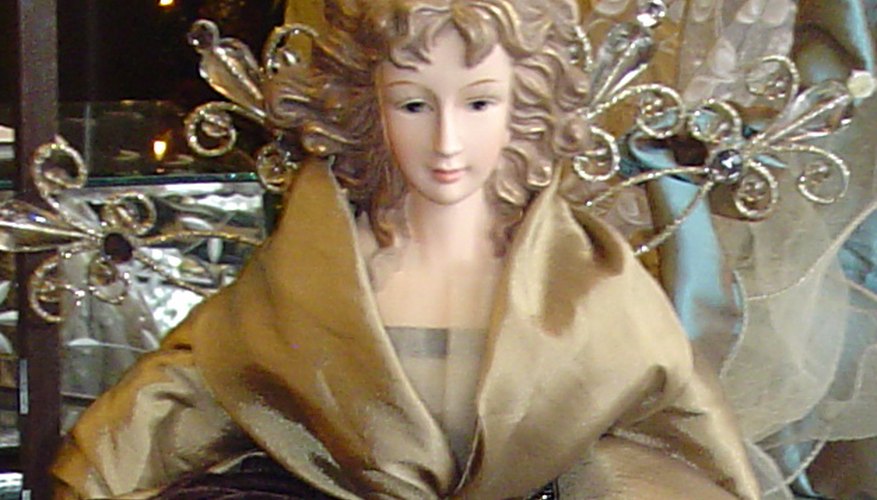 Start a collection of angels. If you're serious about collecting angels, it's good idea is to buy one angel every Christmas. Over the years, you will have more and more angels to grace and beautify your Christmas decor.
How to Make a Wire Christmas Tree
There is nothing that says "Christmas" like a decorated tree, but not all trees have to be of the evergreen variety. With a few simple materials, you can make your own Christmas tree out of wire hangers. This tree, easy both on the wallet and the eyes, makes an ideal project to complete with friends and family during the holidays. Let the merriment begin.