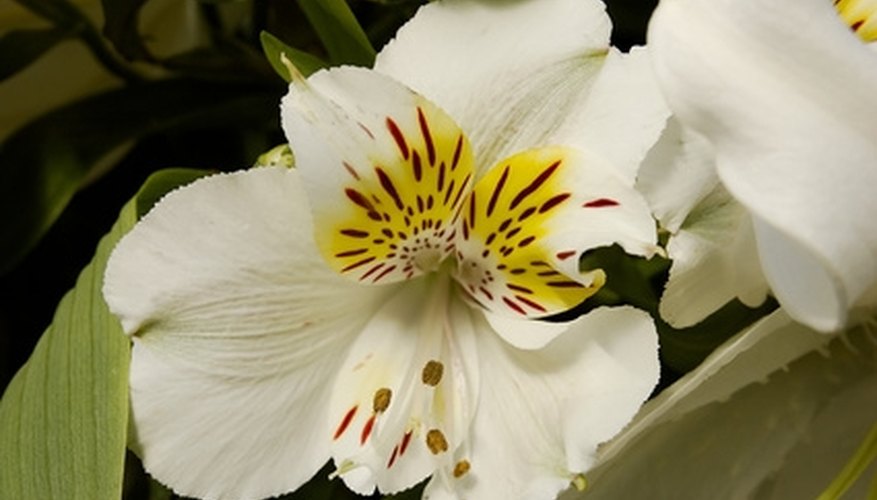 Is Alstroemeria Poisonous to Cats?
Bright flowers are the main draw of alstroemeria plants. These hardy perennials have flowers resembling lilies, adding interest and visual contrast to gardens. Native to Brazil and Chile, these plants are cultivated around the world and appear in cut-flower arrangements. Despite their pleasant appearance, alstroemeria plants posses toxins that are poisonous to cats.
Identification
Alstroemeria plants have rhizome rootstocks with shoots growing straight from the ground. Leaves are resupinate, twisting gently so that the bottom surface of the leaf appears to be the top. Flowers grow in umbels on top of the shoots and appear in a variety of colors, including whites, yellows, reds and purples.
Toxicity
"The Clinical Textbook for Veterinary Technicians" identifies alstroemeria plants as mildly poisonous to cats. The active toxin is tulipalin.
Symptoms
The main symptoms of feline tulipalin poisoning is gastrointestinal upset, including diarrhea and vomiting, a fact supported by the American Society for the Prevention of Cruelty to Animals. The toxin can also cause skin irritation from casual contact.
Warning
If you suspect your cat is suffering adverse effects from eating an alstroemeria plant, seek veterinary care immediately.
Alstroemeria Facts
Discovery
The alstroemeria was named after Baron Claus von Alstromer, its discoverer. Von Alstromer was on a trip to Spain collecting seeds in 1753 when he came across this interesting bloom. Carl Linnaeus named the flower after the baron.
Description
The alstroemeria is a trumpet-shaped flower with blooms that appear in a cluster. These clusters are at the end of a stalk that comes off a single stem. Each flower can last a week, and the stem can bloom for two weeks.
Color Choices
Colors for the Peruvian lily range from purple and lavender to the pink and reds. Other colors include orange, yellow, apricot and white. Colors can be streaked with another color, or even freckled.
Symbolism
The Peruvian lily is a flower that means friendship and devotion when given. Flower meanings date back to the Victorian era.
When to Buy
Alstroemeria are best bought when one to two flowers have opened. Other buds should be showing color. Make sure the leaves and the stems are both a deep green color.
Warnings
Peruvian lilies can cause a bit of allergic dermatitis in some people. Washing with a soap and water can keep this risk low. Florists should wear gloves to lessen the continued contact with the flower.
Alstroemeria Plant Care
Sun
Alstroemeria should be planted in the spring in a location that offers full sun, especially in the morning hours.
Soil
The soil should have medium moisture with a pH level of 5.5 to 7. The soil should be sandy loam to clay loam and well-drained.
Planting
In the spring, the bulbs should be planted 8 inches (20 cm) deep with 12 inches (30 cm) between each root.
Water
The plant requires 1 inch of water per week, keeping the soil moist and well-drained. Adding compost or a 3-inch layer of mulch will help retain water.
Insects and Diseases
Problems to watch the plants for include spider mites, slugs, snails and leaf spots.