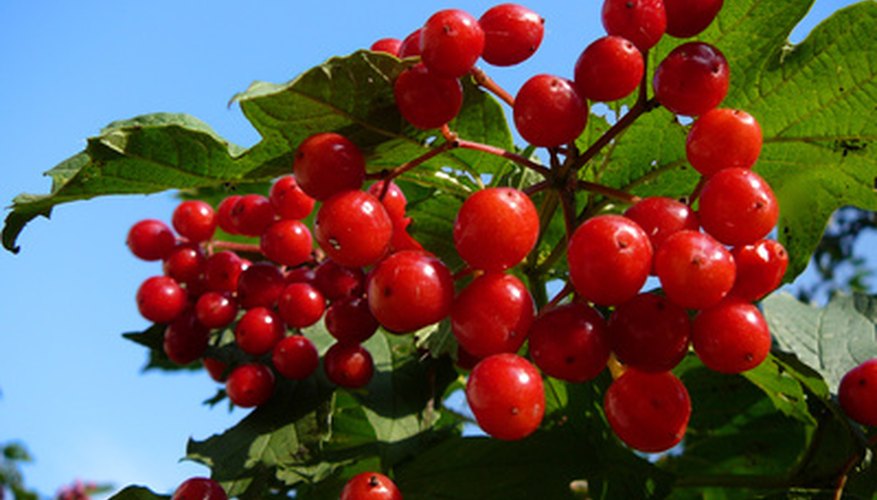 The snowball bush is a deciduous species of viburnum that produces multi-stemmed branches with white flower globes. The shrub produces blooms that start in the spring and will last through July in most cases. The snowball viburnum bush is hardy to plant in USDA growing zones 7 through 9 and is used in landscapes as a hedge or filler plant.
Planting Location
Choose a planting location for the snowball viburnum bush that offers a well-draining soil and a minimum of six hours direct sunlight. Test the soil pH as the plant prefers a soil with a pH of 4.5 to 7.5. Work ground rock sulfur into the soil to lower the pH. Water the soil well after amending the soil and let it rest for two weeks before planting.
How to Plant
Plant the snowball viburnum bush in the spring or fall seasons when the temperatures are cooler. Dig a hole that is the same depth and twice as wide as the container the plant came in. Amend the removed soil by mixing it with compost to increase the nutrient value and water-draining ability. Set the plant in the hole and fill half the hole with the amended soil. Water the hole and let it absorb into the surrounding soil. Fill the remaining area with amended soil and gently pack it around the root ball to eliminate air pockets. Space the plants five or more feet apart and water the generously after planting and daily for first week to stimulate root growth.
Care and Maintenance
Water the snowball viburnum bush to keep the soil moist during the growing season. Monitor the soil moisture level and apply supplemental water when the weekly rainfall is less than 1 inch per week. Apply a 2- to 3-inch layer of mulch around the bush to increase moisture retention in the soil. Fertilize established plants in the spring with a balanced all-purpose fertilizer. Prune the shrub after the flowering period is complete to remove dead and damaged branches.
Propagation
Propagate the snowball viburnum bush by taking softwood cuttings during the summer months. Dip the cut end of the branch in rooting hormone and stick it in a rooting tray filled with sterile rooting medium that is moistened with water. Place the cuttings in a warm location that has indirect sunlight until roots have formed. Monitor the soil moisture and spray with water as needed. Transplant the cuttings into individual pots once the roots are at least 1 inch in length.
Problems
Monitor the snowball viburnum bush for an infestation of aphids that appear as small gray or green-colored insects. A plant that has an aphid problem will have deformed leaves and stems that appear twisted and curled. Spray the plant with water for several days to remove the aphids. Apply an insecticide if the aphids are not eliminated after several sprayings of water.