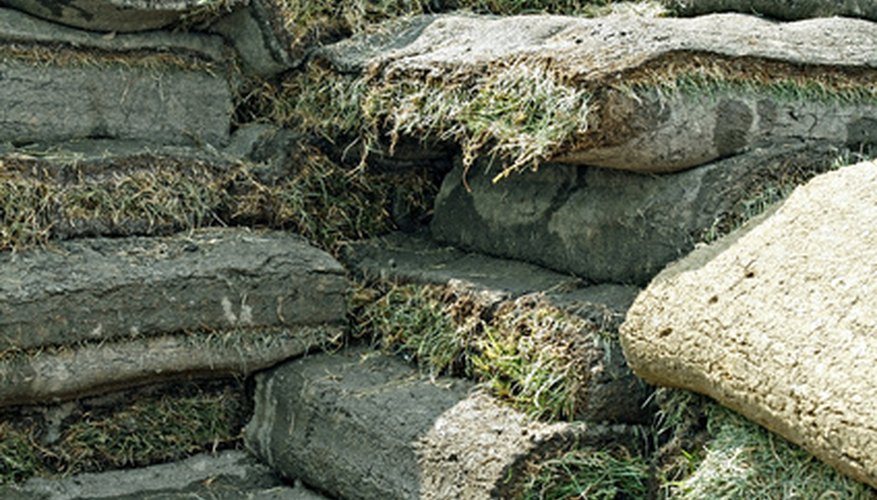 Planting sod provides immediate gratification, as you won't need to wait for the seeds to germinate and sprout to have a beautiful green landscape. When storing the sod during the planting, keep it in a shaded area and water regularly, wetting the soil and edges. Before planting the sod, the soil should be leveled and allowed to settle, with all large rocks removed.
Contact your gardening center or local county extension office for information on soil testing to determine what, if any, amendments to add to the soil.
Gather the soil sample and send it in for testing, as per the instructions from the testing center. This typically involves filling a pint-sized plastic bag with soil from the garden and completing a form from the testing center, then sending it in.
Till in amendments to the soil if recommended following the results of your soil testing. Consult with your local gardening center for the appropriate amendments for the sod type you're planting and the condition of your soil as reflected in the sample test.
Rake the soil to level and remove any small rocks.
Mark out a straight line using a string (the length of the site) as a starting point. Or, instead of marking with a string line, use a long, straight sidewalk adjacent to the area. If planting on a hilly area, run the line lengthwise across the hill.
Lay the long edge of the sod along the line established in the previous step. Any cut edges should curl downward until set in place. Continue adding pieces to complete the first row along the line.
Add another row next to the first, staggering the joints. When laying sod, it should be staggered, resembling a brick wall.
Continue adding rows, staggering the joints.
Fill the joints between the pieces with equal amounts peat moss and soil and press in with your fingers.
Roll over the entire sod surfaced twice (in opposite directions) or tap down with a tapping tool. Water thoroughly.