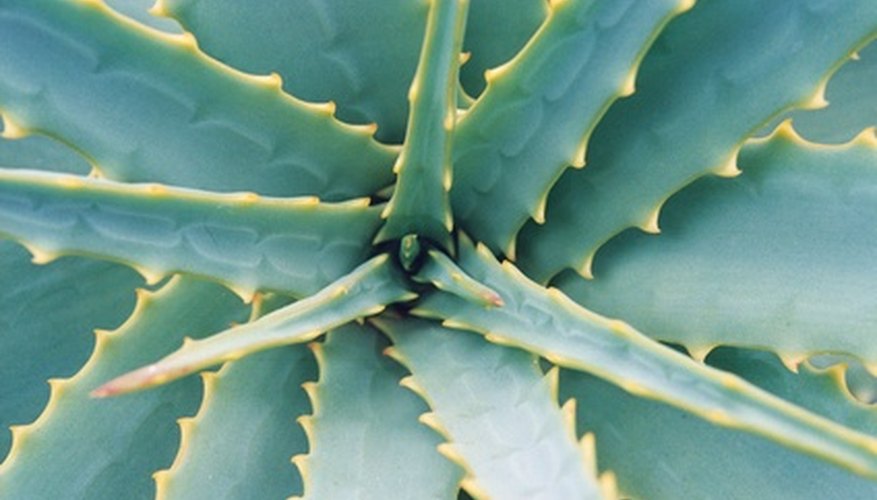 Desert landscapes don't have to be dry and colorless, in fact, many desert-loving plants like cacti and succulents have bright and colorful foliage to match the fiery desert sunset. Succulents have interesting and unusually shaped foliage and blooms. Their low maintenance and drought tolerant abilities make them good plants to grow in a desert landscape. Cacti plants grow in a wide range of sizes and shapes, and add a brilliant presence to the desert space.
Parry's Agave
Parry's agave (Agava parryi) is an evergreen succulent with course texture. The basal rosette and clump shape of Parry's agave creates a striking addition to a desert landscape. Parry's agave grows 3 feet tall and wide and has 2-foot leaves. The leaves are grayish-green, and edged with small teeth. At the top of each oval-shaped leaf is a terminal spine.
The flowers on Parry's agave are yellowish-green and grow on a stalk that ranges from 6 to 15 feet tall, creating a commanding presence to the landscape. Parry's agave prefers full sun and well-drained soil. It is a drought tolerant succulent, which is ideal in desert landscapes. Parry's agave thrives in USDA Hardiness Zones 9 to 11.
Spiral Aloe
Spiral aloe (Aloe polyphylla) plants are striking succulents that grow in a spiral, hence the name spiral aloe. Spiral aloes grow in a clump-like form that grows between 6 to 12 inches tall and wide. The tooth edges leaves come to a point with one larger terminal spine. Spiral aloe plants prefer full sun to light shade and well-drained soils. Spiral aloe plants are hardy succulents that are deer, drought and frost tolerant, making these plants ideal along a desert landscape. They look striking along a rock garden bed or grown in containers nestled along the desert landscape. The USDA Hardiness Zone for planting is 11.
Cherry Cola Dyckiad
Cherry Cola (Dyckia fosteriana 'Cherry Cola') is a succulent that is tolerate of high, extreme heat. The foliage on the cherry cola succulent is a deep burgundy color and is lined with small, sharp teeth, typical of a desert plant. Cherry cola dyckias have summer-blooming flowers that are bright orange in color to attract hummingbirds and light up the desert landscape. Cherry colas grow 1 to 3 feet tall and wide and are ideal nestled along a desert border or bed to provide a colorful addition to the landscape. Cherry cola dyckias are deer and drought tolerant plants, making them very versatile. They prefer full sun and well-drained soil. The USDA Hardiness Zone for planting is 8 to 11.