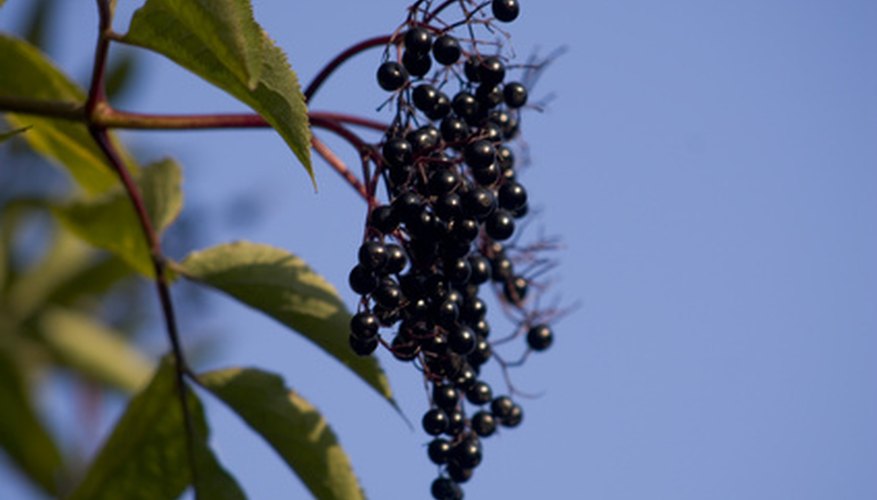 Homemade elderberry is crafted in many rural areas where elderberry bushes grow. Although the wine takes only a few weeks to ferment, the longer it ages, the better it tastes. Old timers would make this wine and store it to drink during the holidays. Very little equipment is needed to make the wine, and much of it can be found in your kitchen.
Remove the elderberries from the stems, discarding any severely bruised or dried fruits. Wash the berries under cool running water to remove dust and debris.
Place the berries in a large stockpot. If desired, you can crush the berries with a potato masher or the back of a large spoon. Add 1/2 cup chopped raisins and 1/2 cup each lemon and orange juice.
Bring one gallon of water to a boil in a second stockpot. Stir in two pounds of sugar, and stir until dissolved.
Pour the sugar mixture over the berries and allow to cool.
Mash the berries into the sugar-water mixture to release the juices from the berries.
Add one package of red wine yeast to the mixture.
Cover the stockpot with cheesecloth and allow the mixture to sit for a day.
Strain the mixture into the second stockpot by placing a cheesecloth-lined colander over the pot. Add one cup of sugar to the mixture and stir.
Recover the pot with cheesecloth and place in a warm, dark area for six weeks. This will allow the wine to ferment.
Pour the wine into clean bottles and cap tightly. Store in a cool, dark place for four to six months before drinking.