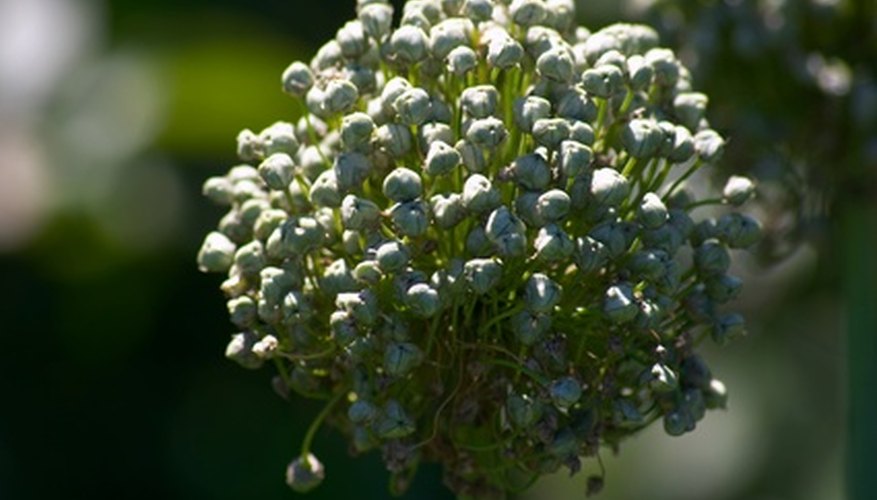 Saving seeds from your garden can be an interesting hobby and a good way to cut expenses. Onion seeds are especially easy to harvest because the seeds will be visible and easily accessible in the bloom at the top of the onion plant. For the best chance of success, choose the biggest, healthiest florets you can find, and gather the onion seeds at the end of the growing season in late summer or early autumn.
Leave a few onion plants in the garden at the end of the growing season. Each plant will eventually form a round floret made of of tiny white flowers at the top of the onion stem.
Allow the floret to remain on the onion plant until the tiny flowers get dry and you can see a few of the black seeds beginning to emerge. Don't wait too long, because the florets can shatter and disburse the onion seeds into the ground.
Cut the floret and toss it in a paper bag. Place the paper bag in a cool, dry place and leave it there for two to three weeks, or until the onion seeds are completely dry.
Break open the floret and shake the seeds into a metal strainer. Jiggle the strainer to allow the seeds to fall to the bottom. The plant debris will come to the top. Take the strainer outside, and blow gently to remove the debris. Don't worry about smaller plant debris that remains with the seeds.
Place the onion seeds on a small, brown paper bag or a paper envelope. Store the onion seeds in a cool, dry place. If desired, you can put the paper bag or envelope in a glass jar and store the jar in the refrigerator. Be sure the jar has a tightly-fitting lid.
Use the onion seeds the following spring, and discard the unused seeds after you're done planting. Onion seeds will rarely be viable after one year.