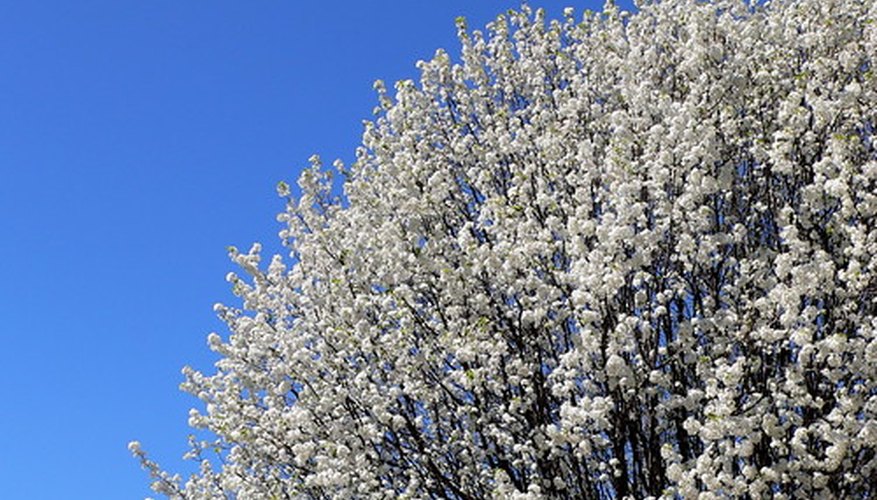 Image by Flickr.com, courtesy of Lee Coursey
Cleveland pear trees are ornamental trees prized by landscapers for their looks and ability to grow just about anywhere. They do not grow fruit, are easy to maintain, grow fast and need little water, which is why they are often used as shade trees for commercial and residential developments.
Origins
The Cleveland pear tree was bred specifically to replace the Bradford pear tree, another ornamental tree that created problems for landscapers. Bradford pear trees were popular for about 10 years, the time it took for the first wave to become mature and begin breaking down in high winds and snowstorms. In addition to damaging houses and cars and downing power lines, Bradford pear trees grew unchecked because birds took their seeds and spread them everywhere. The Cleveland pear tree was bred not to sprout seeds, but to grow branches that are stronger and bunched closer together.
Best Time to Plant
The best time to plant a Cleveland pear tree is the spring or fall. When you plant a tree, make sure it gets plenty of water the first day it's in the ground. A good way to do this is to place a garden hose at the foot of the tree, turn it on to a slow trickle and let the water flow for 30 to 40 minutes moving the hose around the tree every 10 minutes. This will give the roots plenty of moisture and allow the tree to establish itself quickly.
Fast Growers
Cleveland pear trees need very little maintenance and grow quickly. Trees are ready to be planted in the ground when they are about 5 feet tall and grow an average of 4 feet per year. Mature trees top off at about 30 feet. Since they produce no fruit, Cleveland pear trees need little water.
Where They Grow
Cleveland pear trees can grow anywhere in the continental United States from New England to the arid Southwest. They can adapt to a wide range of soil conditions and are drought tolerant. The trees are also very hardy and can weather bitter cold winters, snowstorms and high winds, unlike their Bradford pear tree predecessors.
Uses
Cleveland pear trees are a favorite among landscapers for a number of reasons. Though deciduous, their oval shape and long green leaves make them an excellent shade tree from spring through the fall. And their white blooms in spring and red coloring in the fall make them one of the most aesthetically appealing trees. Their size, topping off at 30 feet, make them ideal for small and medium sized yards.
References