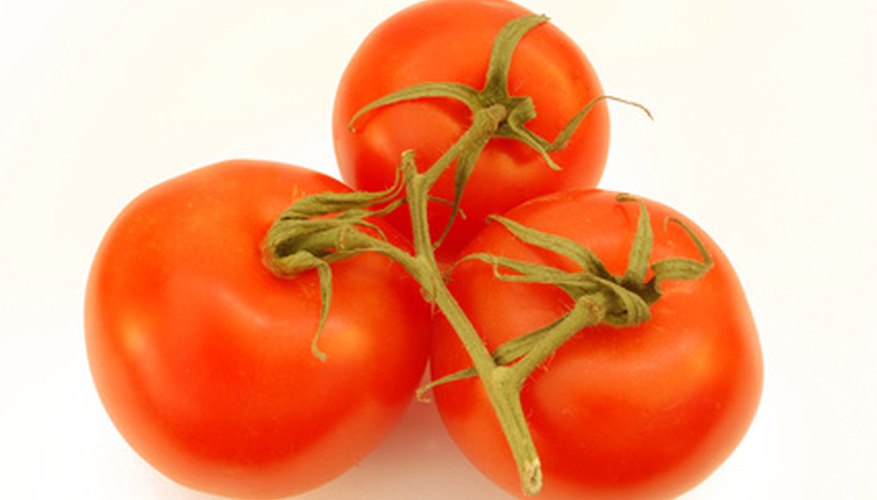 If you live in a cold climate, the bland, mealy, under-ripe tomatoes that show up at the supermarket in the winter are a pretty sad imitation of fresh, juicy summer tomatoes. If you need to satisfy your craving for BLTs and Caprese salad even in the dead of winter, consider growing your own tomatoes indoors. Tomatoes need a warm location, strong light, fertile soil and regular watering, but picking fresh, vine-ripened tomatoes when the snow is blowing outside makes the hard work all worth it.
Start seeds at the end of fall. Fill small containers or peat pots with moist potting mix, bury the tomato seeds with about 1/4 inch of soil, and water regularly to keep the soil evenly moist. Tomato seed should germinate in about a week. Choose a tomato with smaller fruit, such as a cherry tomato or grape tomato. Tommy Toe, Pink Ping Pong, Tiny Tim and Patio are all good choices.
Transplant the seedlings to a five-gallon container as they grow bigger. You can grow one to three tomato plants in a five-gallon container. Tomatoes are heavy feeders, so fill the five-gallon container with three or four parts potting mix and one part compost.
Place the container in the warmest, sunniest location in your house, ideally near a large, south-facing window. If your indoor tomato isn't getting at least eight to 12 hours of sunlight every day, consider using a grow light or other strong fluorescent lamp for supplemental light.
Install a wire tomato cage, stakes or a trellis for your tomato vine to climb up.
Water your tomato regularly. Tomatoes need a good amount of water to produce juicy fruit.
Rotate the pot about once a week so that every side of the plant gets adequate light.
Apply fish emulsion or other liquid fertilizer two or three times over the growing season. Follow all directions on the package.
Pollinate your indoor tomatoes by tapping the vine lightly every time you water, or turn an electric fan on the plant. Outside, tomatoes depend on the wind and vibration of bee's wings to pollinate the blossoms.
Harvest the tomatoes when the fruit is richly colored, heavy for its size, and comes off easily in your hand.