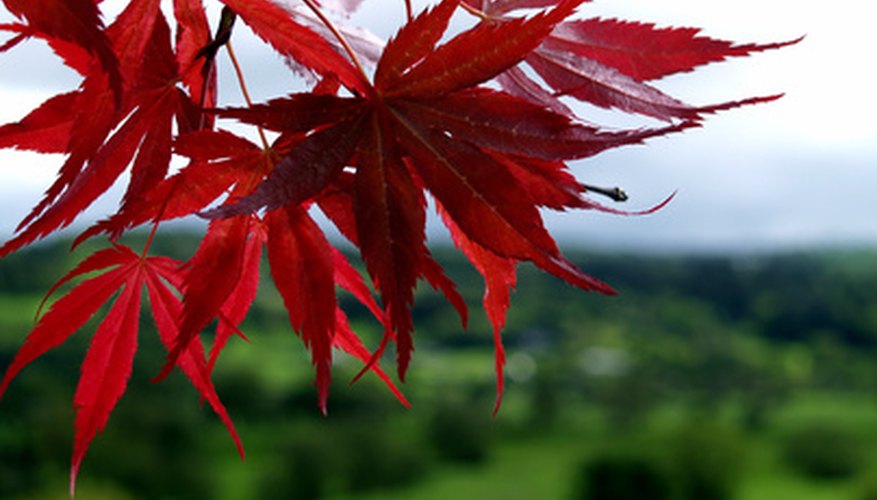 As part of the genus Acer, Japanese maple trees are known for their bright, classic shape and colorful foliage. Many varieties of Japanese maples are red in color and have striking fall foliage that ranges from bright cherry red to a deep scarlet or crimson color. Some red maples also have exquisite bark that is bright green to contrast with the showy foliage. Japanese maple trees grow in fertile, well-drained soils and full sun to partial shade.
Crimson Queen
The crimson queen is a variety of red Japanese maple known for its deep red foliage. Crimson queen has a slow growth habit and as it ages, it becomes very dense in growth. Beginning in the fall, the crimson queen turns a scarlet red color that lights up the landscape. Crimson queen Japanese maples grow between 8 to 10 feet tall with a cascading form. Their deeply dissected leaves carry their deep color throughout the entire growing season. Crimson queen maples tolerate full sun to part shade and moist, well-drained soil. They are also suitable for container gardening and bonsai. They grow best in USDA hardiness zones 5 to 9.
Bloodgood
Bloodgood maple trees are a variety of red maple trees with a deep red color. These striking maple trees grow between 16 to 20 feet in height and have billowing branches. Beginning in the summer, the bloodgood Japanese maples have a bright red color that turns to the classic crimson color in the fall. Bloodgood maple trees bear brilliant red fruits that add a striking addition to the landscape. This sturdy tree also spreads as it ages and tolerates a wide range of temperatures, including warmer climates. Bloodgood Japanese maple trees prefer light sun and a dappling of afternoon shade to thrive. They are also ideal for container gardening but are not suitable for bonsai. Bloodgood Japanese maples do well in USDA hardiness zones 5 to 9.
Oshu Shidare
Oshu shidare are a type of red Japanese maple with cherry red foliage. This slow-growing Japanese maple grows between 6 to 10 feet high and wide and is extremely low-maintenance. Oshu shidare has deeply divided and long-lobed leaves that contrast with the bright green bark. Beginning in the summer, the foliage changes from red to green. In the fall, the oshu shidare leaves change back to their bright red color. The pendulous, spreading branches on the oshu shidare are wide and move elegantly in the wind. Oshu shidare Japanese maple trees prefer full sun to part shade and well-drained soil that is slightly acidic. They also require consistent water and prefer a medium to wet moisture content. These hardy growers are lovely along a front garden bed or planted as a focal point in a lightly shaded garden. These trees grow well in USDA hardiness zones 6 to 9.