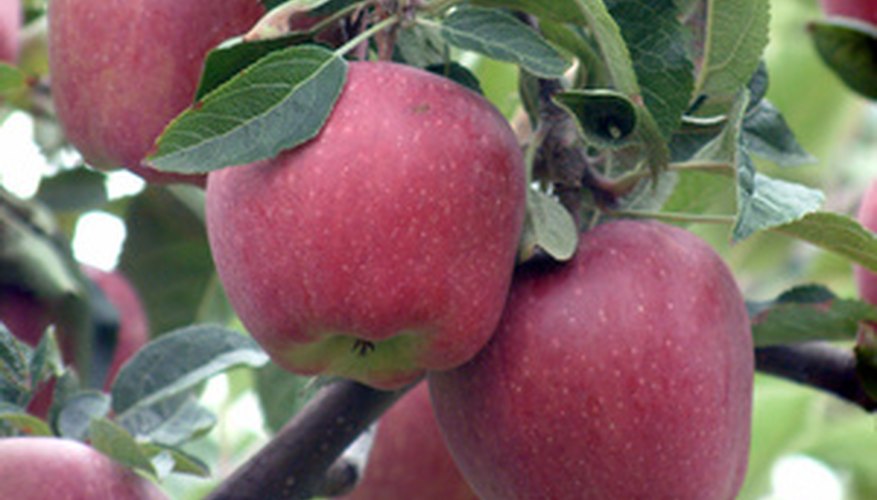 Washington State is a key producer of apples in the U.S., growing 42 percent of all apples and 60 percent of all eating apples, according to a Washington State University general production update published in 2002.
Mostly grown in Washington's central valleys, where temperatures are mild and cool, apples from the state include the Red and Golden Delicious, Granny Smith, Fuji, Cameo and Gala varieties.
Red Delicious
The Red Delicious variety of apples is the most popular and most produced apple in Washington State. This apple is more oblong than round with five knobs at the bottom and deep red skin. Red Delicious apples are harvested in September and October. and thrive in climates with sunny, warm days and cool nights.
A native of Iowa, the Red Delicious apple was first brought to market in the U.S. in 1874 and has been farmed in Washington since the 1920s.
Granny Smith
The Granny Smith apple is notable for its green skin and slightly tart flavor. This apple is round with very firm flesh and is a popular baking and canning fruit. Granny Smith apples ripen early in the season in warmer areas and late in climates with cool summers, but may be at risk of frost in colder areas because it ripens so late.
In Washington State, Granny Smiths are harvested in October. A favorite in Australia, Granny Smiths were first brought to the U.S. market in 1868.
Fuji
Fuji apples have gained popularity over the last decade since being introduced to the U.S. market in 1982. A native of Japan, the Fuji is a cross between Red Delicious and Ralls Janet that was developed at a Japanese research facility.
These apples are sweeter to the taste than even Red Delicious and have red skin that may be dotted with green. The flesh is firm and golden with green stripes. A late-season fruit, the Fuji apple is ready for harvest in October.