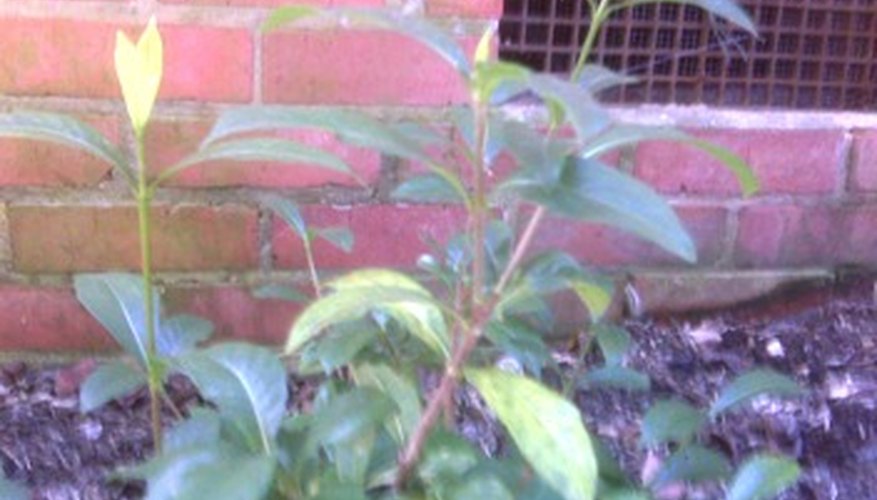 Gardenias--or cape jasmine--are a popular bush in southern gardens. This evergreen bush produces deep green leaves and creamy blossoms with a strong fragrance. Propagate gardenias provides bushes for shady spots in your garden or give them as gifts to fellow gardeners. Once planted, it might take several seasons for the new bush to grow flowers.
Cut tips off the gardenia stems in the middle of the summer. These stems should be 4 to 5 inches long and have several leaves on the end.
Fill a small vase or glass with water. To provide nutrients to the water and raise the acidity, which gardenias love, add several teaspoons of tea grounds.
Remove all but the top two leaves from each stem. Place the stem in the vase of water, making sure that the leaves are not resting in the water.
Place the vase of gardenia stems in a sunny window. Keep the water level at the same height. Within a month or so, the stems will sprout roots. Leave the stems in the water until there are several strong roots.
Mix equal amounts of sterile potting soil and peat moss. Clean a flower container with hot, soapy water. Make sure there are drainage holes in the bottom of the container. Fill the container with the potting mix.
Poke a hole in the center of the potting mix and insert the gardenia stem, being careful not to break the roots. Smooth the potting mix against the stem and gently tamp it down. Water the soil thoroughly.
Place the container on the saucer and set in a spot that receives direct sunlight. Keep the soil moist but not wet, and apply an acid fertilizer formulated for container plants. By the following season, the gardenia will be ready to transplant into the garden.