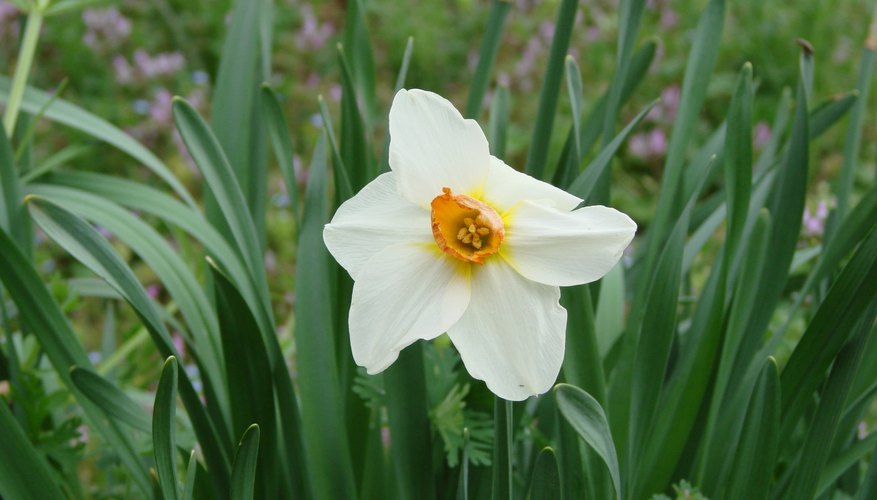 Imagine a plant being so versatile that it grows both indoors and outdoors with minimal maintenance. The paperwhite fits the bill perfectly. These bulb plants, called a paperwhite narcissus, resemble the traditional yellow daffodils that we all see pop up in the gardens in early spring. Narcissus plants feature white flowers with triangular leaves that look exactly like daffodils. In fact, these beautiful flowers are part of the daffodil family and can thrive when forced inside. They can also be planted easily in a prepared garden bed. Because of this plant's versatility, let's look at how to care for this plant in a garden environment and when forcing a bulb at home.
Growing paperwhites in the garden
Prepare soil with compost and peat moss to encourage drainage. Both additives also provide plenty of organic material to keep the soil filled with nutrients to stimulate root growth.
Plan your paperwhite bulb planting for the late fall, before the ground freezes. This will bring strong growth and blooms as soon as the ground warms up in the spring.
Dig individual holes about three times as large as the longest length of the bulb, which should result in a hole about 8 inches deep. You want to sink the plant deep enough to avoid rodents such as moles.
Fill the hole half full with dirt, then water the garden. Fill the rest of the hole up to the surface of the garden and water the bulbs one more time.
Lay a 2- to 4-inch layer of mulch across the garden bed to help keep the bulbs at a uniform temperature through colder months.
Do not cut back foliage before the plant has finished blooming completely since this can cause the bulb to stop producing flowers.
Forcing paperwhite bulbs indoors
Fill a plastic pot 3/4 full of fresh potting soil.
With the shoot pointed upward, place the paperwhite bulbs into the container. Evenly space the bulbs so they aren't touching the sides of the pot or each other. Allow a portion of the bulb to extend above the pot rim.
Fill in around the bulbs with potting soil until the dirt reaches 1/3 of the way up the bulb. Don't pat down the soil too firmly.
Water thoroughly to keep the soil moist but not soggy. Don't allow the soil to dry out.
Place the container in an area that's cool and dark for about two weeks. The temperature should range between 60 and 65 degrees F. Unlike other forced bulbs, paperwhites don't need extreme cooling in order to bloom indoors.
Move the plant to a sunny window until the flowers start to appear. To help the flowers last longer, make sure to move the pot out of direct sunlight. Discard any bulbs after forcing.