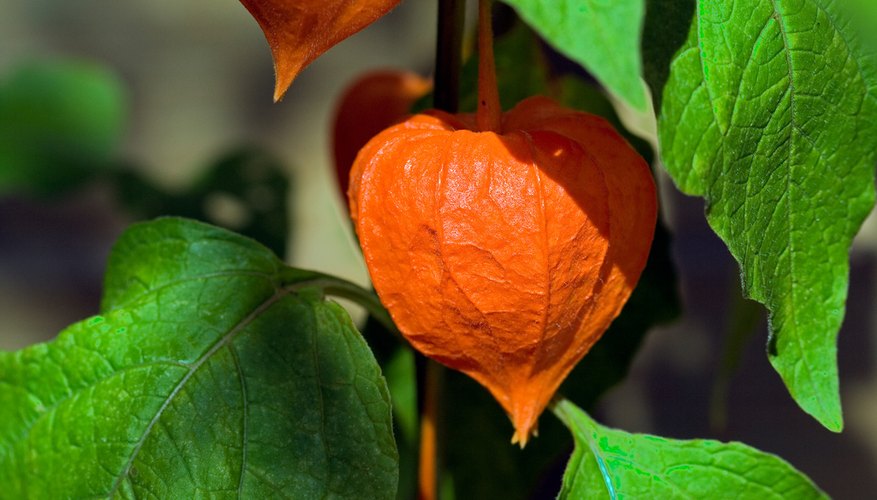 Also known as the winter cherry, Chinese lanterns boast cheerful, decorative bright orange papery husks and are very easy to grow from seeds. These plants are hardy perennials in USDA Zones 5-10, and they love warm, well-drained soil. They will also thrive in colder areas when grown as annual plants. Once established, Chinese lanterns require little in the way of care or maintenance. Although mature fruits and berries from this member of the nightshade family are used in folk remedies, they are toxic if ingested while unripe.
Start Chinese lantern seeds indoors about 6 to 8 weeks prior to your area's last predicted frost. They're not fussy, so you can use either 2-inch seedling pots or peat pots, as long as good drainage is provided. Cover them with about ¼ inch of potting mix and water just enough to moisten the planting medium by spritzing with a plastic spray bottle.
Set the starting pots in a warm spot with as much direct sunlight as possible, such as a bright windowsill. Your Chinese lantern seeds should sprout in 2 to 4 weeks.
Keep the potting medium uniformly moist, but never soggy or wet. Chinese lanterns don't like wet roots.
Transplant your seedlings outdoors as soon as the soil can be worked and all danger of frost has passed. Space them about 18 to 24 inches apart in very well-drained soil in full sun or light shade.
Water your Chinese lanterns about every other day, or just enough to keep the soil barely moist. It's important that you water early in the morning before the sun gets high, because very strong sunlight will burn wet plants.
Feed them about once a month with an all-purpose fertilizer. The Chinese lanterns will reach a mature height of about 2 to 3 feet. They'll continue to bloom and produce lovely orange fruit until succumbing to frost, when you can cut the stems back to ground level.