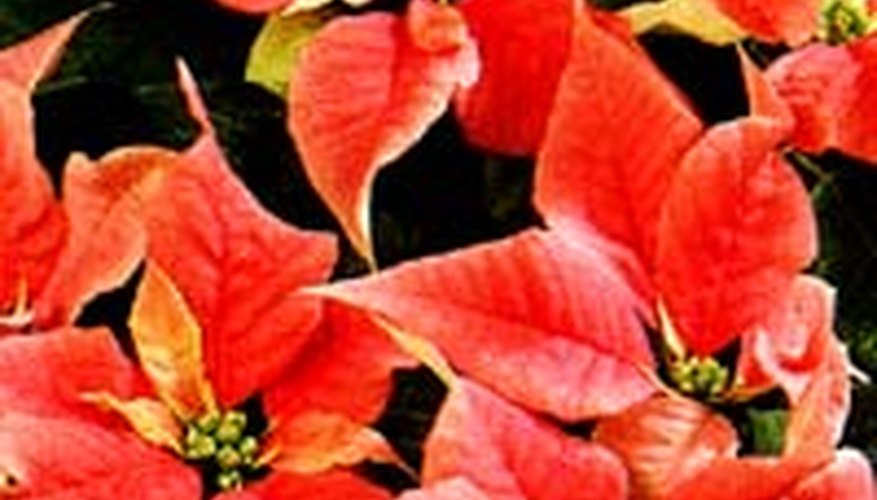 by Susan Ward
I've always thought that Florida would be a ideal place to live; I've never been there, but I've read that in Florida, Poinsettias four to five feet tall bloom outside throughout the Christmas season. That would be a magical sight indeed! For me, and many others, the Poinsettia is a cherished symbol of the Christmas season. Its large, flamboyant red, white or yellow bracts are a cheerful beacon brightening the dark days of winter and the perfect festive touch for holiday decorating.
A Lovely Legend
There's even a Christmas legend about the Poinsettia. According to Joyce Schillen, in The Growing Season (1996), a little Mexican girl named Pepita wanted more than anything to give a fine present to the Christ child but as she was very poor, she had no gift to present. As Pepita walked sorrowfully to church with her cousin Pedro, he tried to comfort her.
"Pepita," he said, "I am certain that even the most humble gift, given in love, will be acceptable to His eyes." Pepita gathered a bouquet of weeds from the roadside, entered the church, and placed her gift tenderly at the feet of the Christ child. Miraculously, Pepita's ordinary weeds burst into brilliant red blooms! They were called Flores de Noche Buena, Flowers of the Holy Night.
As you might guess from this lovely legend, the Poinsettia (Euphorbia pulcherrima) originates in Mexico, where it grows as a ten foot tall shrub. Although it was cultivated by the Aztecs, who made a reddish-purple dye out of the bracts and a medicine for fever from the plant's latex, the Poinsettia's religious associations date back to the Seventeenth Century, when Franciscan priests, near Taxco, began to use the flower in nativity processions because of its brilliant color ("The Texas Poinsettia Guide").
The Poinsettia we love to adorn our homes with is named after Joel Roberts Poinsett, first United States Ambassador to Mexico in the 1820s. Ambassador Poinsett imported the plant to his greenhouses in South Carolina, and began propagating and distributing Poinsettias. From these modest beginnings, the plants have steadily increased in popularity, and today the annual sales of Poinsettias exceed the annual sales of all other potted plants combined (Joyce Schillen, 1996).
Choosing a Poinsettia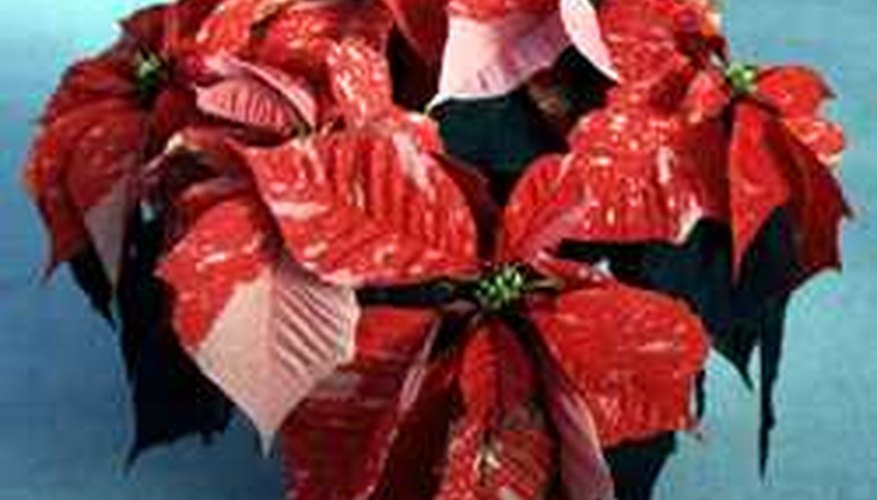 So there are a great many people out there, who think, as I do, that getting a Poinsettia for Christmas is just as necessary as getting a Christmas tree. For most of us, who don't live in tropical climes where Poinsettias flourish, that means selecting and buying a potted plant.
The most popular varieties are still the classic reds such as "Mrs. Paul Ecke" and "Angelica", but you can also find poinsettias in shades of white, cream, yellow, red, pink, peach, and some with variegated bracts that are striped, marbled, or spotted with contrasting colors. My favorite is "Jingle Bells", which has bracts that are red with pink flecks.
Whatever color you decide on, choose your plant carefully. Never buy a Poinsettia that has been placed outside or kept in a chilly, drafty spot (such as a display by the door); Poinsettias are very sensitive to temperature fluctuations and will drop their leaves at the least provocation. As I live in the North, I never buy a Poinsettia from a place that doesn't provide plastic wrapping to get the plant from the greenhouse to the car without injury. (Paper bags will also work as protection.)
In addition, Dr. Bob Black, Horticultural Specialist, advises Poinsettia buyers to:
Choose a plant which has green foliage near the soil line, as old plants will usually have experienced excessive leaf drop.
Look for plants with large bracts that extend over the lower green foliage.
Select only plants with small tight green button-like flower parts in the center of the bracts. These little buttons will eventually develop into open flowers. If the poinsettia is already producing pollen, a portion of its useful display life has already passed and the bracts will begin to fade.
Treat Your Poinsettia Well
Once you get your Poinsettia home, position it carefully, away from draughts and heat sources, which can cause leaf drop. Don't put it on top of a television, near a fireplace or ventilating duct, or anywhere near a door.
Poinsettias like room temperatures of between 68 - 70° F; their color lasts longest when temperatures do not exceed 70° F during the daytime or fall below 65° F at night. They need at least six hours a day of indirect sunlight; if direct sun can't be avoided, diffuse the light with a shade or sheer curtain.
Allow your Poinsettia to dry out slightly between waterings; water when the soil feels dry to the touch, so that the water just starts to come out of the drainage holes. It's important that you don't overwater your plant, or allow it to sit in standing water. If you're keeping your Poinsettia in a decorative container, remove it before watering, and let the water drain away completely. Standing water can lead to root rot.
On the other hand, Poinsettias need moist air; mist your plant frequently during the blooming season to keep it happy. While the Poinsettia is blooming, it won't need to be fertilized, but applying a balanced fertilizer after the blooming season is over will maintain healthy foliage and promote new growth
. If you treat your Poinsettia well, it will reward you with brilliant color for many months; mine usually bloom from when I buy them in November through March.
When It's Over
Sadly, most potted Poinsettias end up in the garbage after their bloom period is done. It doesn't have to be that way if you have the time and patience to do what's necessary to make your Poinsettia rebloom.
When the leaves have fallen (usually by late March or early April), cut the Poinsettia back to about 8" in height. Continue a regular watering program, and fertilize your plant with a good, balanced. By the end of May, you should see vigorous new growth. Transplant the Poinsettia into a larger pot (no more than four inches larger than the original pot).
Continue regular watering during the growth period, and fertilize every two to three weeks. Once all chance of frost has passed and night temperatures average 55° F or above, you can put the Poinsettia outside (being sure to bring it back in if there's any chance the temperature will fall below 50° F)! If pruning is necessary to keep the plant bushy and compact, be sure pruning is done by September 1.
Then comes the hard part; complete light control. From October 1, the Poinsettia will need to be kept in complete darkness for 14 continuous hours each night. You'll have to cover the plant with a black polythene bag or a large box, as any stray light, such as that of a streetlight or lamp, can stop the re-flowering process.
In the daytime, from October through December, the plant will need 6 - 8 hours of bright sunlight daily, with night temperatures between 60 - 70° F. Temperatures outside of this range can also delay flowering.
Following this regime faithfully for eight to ten weeks should give you a flowering Poinsettia for the Christmas season; the actual bloom time will depend on the particular variety.
Safe to Give
Did you remember National Poinsettia Day, December 12? Yes, really. The date marks the death of Joel Roberts Poinsett, who introduced the beautiful plant to the United States.
If you didn't remember to celebrate it this year, you can still give Poinsettias as gifts for Christmas; my own theory is that you can never have too many, and they make wonderful host/hostess gifts for all those holiday celebrations.
Some people are reluctant to give Poinsettias to others because they think they're poisonous, but this is not true! The Society of American Florists wants you to know that no other consumer plant has been as extensively tested as the Poinsettia, and they're not toxic. In fact, "according to POISINDEX (R), the information resource used by the majority of US poison control centers, a 50-pound child would have to eat more than 1.25 pounds of poinsettia bracts (500 to 600 leaves) to exceed the experimental doses that found no toxicity" ("The Facts About Poinsettia", 1998).
So there's absolutely no reason not to treat yourself and your loved ones to the brilliant splendor of this plant that has symbolized fertility and eternity for hundreds of years. Let the Poinsettia light up the holidays for you and yours.
Sources
Barnes, Dr. Larry, Drees, Dr. Bastiaan, Hall, Dr. Charles, and Wilkerson, Dr. Don. "The Texas Poinsettia Guide". Texas Agricultural Extension Service. © TAEX .
Black, Dr. Bob."Poinsettias".
"Poinsettia Care and Selection". Fernlea Flowers Ltd. & The John Henry Co. 1997.
Schillen, Joyce. "Poinsettia: Bright Star of the Season". Excerpted from The Growing Season. Medford, OR: Webb Research Group. 1996.
"The Facts About Poinsettia". Society of American Florists. April 1998.