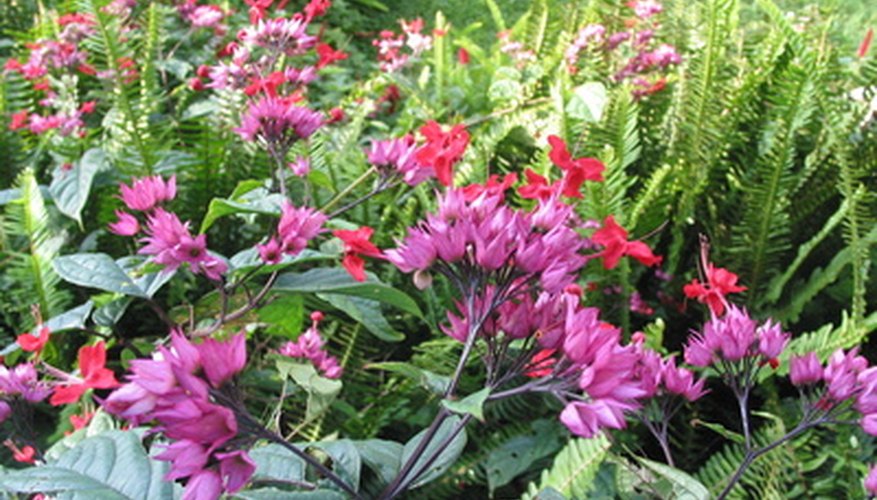 Rare pink flowering vines offer gardeners the opportunity to extend the traditional gardening space dedicated to flowering plants to a vertical plane. Flowering vines provide an attractive backdrop against fence-lines, garden walls and garden trellises. The warm colors of a pink flowering vine can add romance to an otherwise dreary location, while the vine's foliage creates a natural privacy screen for private residences. Rare vines from across the globe provide gardeners with a special challenge, as these unusual plants can take extra time and effort to cultivate.
Bower Vine
The bower vine, known scientifically as Pandorea jasminoides, originates in northeastern Australia. In the United States, this vine grows in sunny and partly sunny locations in USDA hardiness zones 8 and 9. The vine produces clusters of tubular pink flowers that bloom throughout the spring and summer. Bower vines grow aggressively and root themselves wherever a vine touches the ground. Gardeners can prevent the vine from overtaking a space by tying it to a support and carefully training to grow as desired. These rare vines thrive in containers as well as in the ground.
Wax Plant
The wax plant, or Hoya carnosa, produces clusters of star-shaped, light pink blossoms during the summer. This Australian native prefers at least four hours of sunlight a day and regular temperatures above 60 degrees Fahrenheit. Gardeners can easily propagate this flowering vine by placing a cutting with several leaves in a vase of water or a container of wet sand.
Podreana Creepers
Botanists often confuse the Zimbabwe creeper, or Podranea brycei, with the related flowering vine Port St. John's creeper, known as Podranea ricasoliana. These vines both belong to the Podreana family and can only be differentiated by slight variations in the size of leaves and the amount of hairs present on flowers. Both vines produce strong stems that can grow more than 30 feet tall and bear a profusion of lilac-pink flowers. The vines attract bees and other pollinators and grow well in containers, along walls or as ground cover.
Coral Vine
Chilean gardeners call this native vine Michay rojo. The shade-loving vine produces deep-pink-colored flowers that hang in elegant groups from the tips of vines. Known scientifically as Berberidopsis coralina, the coral vine grows in humid coastal areas that experience nearly perpetual rainfall, or in USDA hardiness zones 10 and 11. Home gardeners who wish to grow the coral vine should be prepared to provide regular water and winter protection during dry or cool periods, as the plant cannot tolerate dry weather for more than a month or frosts of any kind.
Hardenbergia 'Inspiration'
The Hardenbergia 'inspiration', or Hardenbergia violacea, originates in Australia. A variant of the Hardenbergia violacea forma rosea, this vine reaches up to 7 feet tall and 16 feet wide. The creeping vine produces small, compact pink flowers in the spring and fall. This rare vine grows best in sunny, dry locations where winter temperatures do not dip below 20 degrees Fahrenheit.