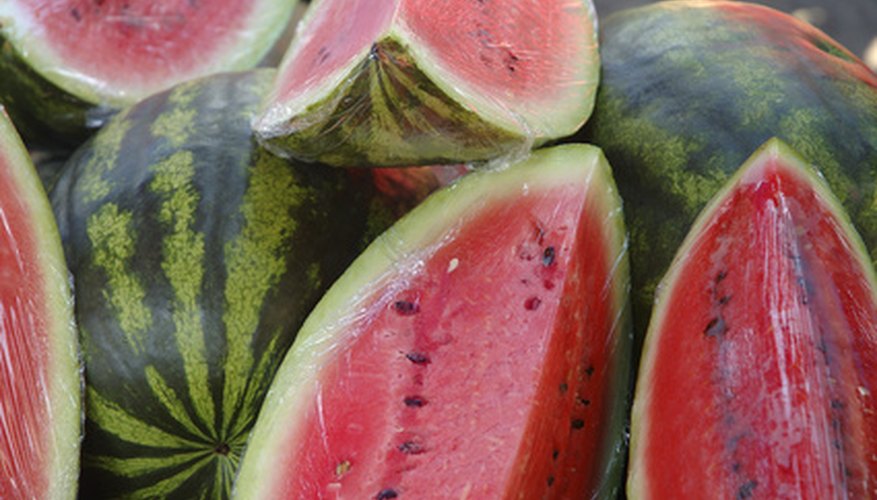 Watermelon is grown in 44 of the 50 United States for its nutritional content and sweet flavor. More than 1,200 varieties of watermelon exist. It is a vitamin-enriched plant that requires high levels of nutrients to continue its fruit production. Gardeners often use nitrogen-based fertilizers with phosphorous to promote fruiting and cross-breeding.
Watermelon
Watermelon is a widely cultivated plant originally from South Africa. It bares large fruits that are filled with vitamin C and beta carotene, and is often a significant source of lycopene. It can be grown in a variety of climates and was introduced to the United States sometime before 1664. According to Todd C. Wehner at North Carolina State University, this plant has been cultivated throughout the world for more than 4,000 years.
28-0-3 Fertilizer
Fertilizers provide plants with the nutrients needed to sustain proper growth. A 28-0-3 fertilizer has 28 parts nitrogen, zero parts phosphorous and only three parts potassium. This type of fertilizer is not recommended for the growth of watermelon because it does not have the levels of phosphorous or potassium that these fruit-producing plants require. Instead, it is mostly used on lawns to prevent weeds and darken the grass leaves.
Fertilization
Consider giving watermelon a 20-20-20 fertilizer, which has high levels of all three macro-nutrients and will provide the plant with the nutrition it needs to bare healthy, nutritious fruits. Plant the seeds at least 5 feet from each other to avoid root competition, and supplement the fertilizer about two months after planting with four parts nitrogen and one part phosphorous to help give the fruits a needed boost of nutrition. This will also keep the plant strong enough to fight off fungal diseases and other damaging pests.
Considerations
Watermelon plants are temperamental and can be easily damaged by sudden changes in climate and external threats. Their fruits are often attacked by hungry pests. Insects and fungus carry dangerous diseases that can spread between plants quickly and destroy crops. It is important to use environmentally safe insecticides and fungicides to combat these threats effectively. Avoid over-watering, misusing fertilizers and planting crops too closely to help combat the threat of disease.
Organic vs Inorganic
Fertilizers today are sold in two varieties--organic and inorganic. Organic fertilizers often have less-synthesized chemicals used in their manufacture and are considered safer for the environment. Many organic fertilizers are filled with micro-nutrients that plants require but in a far less quantity than those like nitrogen.