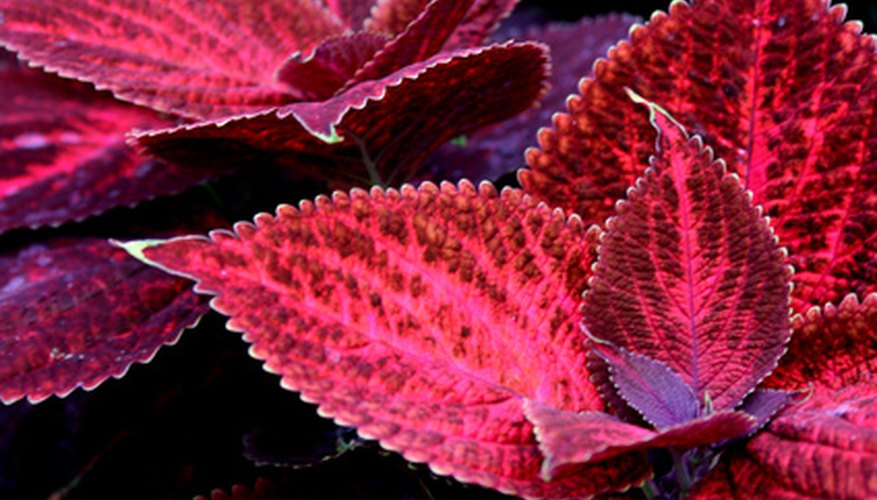 Window boxes add interest to any home exterior and provide a cheery view from inside the house too. Clemson University Extension and the National Gardening Association suggest using a lightweight or soilless potting mix to encourage drainage and retain aeration. Consider the amount of sunlight each window box will receive and plant a variety of young plants for contrasting texture and color. Plant more vertical growers in the rear and trailing plants that will spill over the side in the front and on the sides.
Coleus
Coleus grows 1 to 3 feet tall and wide. Its colorful foliage makes up for its unassuming blooms, which should be removed as they grow to encourage more foliage growth. Leaves and stems, many of which are variegated, feature colors ranging from deep purple to bright green. Their light requirements depend on the cultivar.
Petunias
Petunias have mid-size single or double blooms in all colors. The plants grow up to 1 foot tall and 2 feet wide, and they bloom all summer. Choose trailing hybrids, and plant them close to window box edges. Cultivate them in boxes that receive full sun and keep the soil consistently moist.
Sweet Potato Vine
This tropical ornamental is favored for its vivid foliage and lush, vine-like growth, suitable for many containers, including window boxes. Their lobed leaves are either dark purple, chartreuse or tri-colored with green, white and pink patches. Plant them in sun or shade and moderately water them; the underground tubers will retain some water when the plant is established. Trim these fast growers as needed.
Geraniums
Geraniums are compact growers that do well in sunny window boxes. They grow from 1 to feet tall and wide, and have flowers in shades of white, pink, red and purple. Their leaves are often variegated. Pinch off dead flowers for continuous blooming. Plant traditional upright cultivars in the back and ivy-leafed trailing cultivars along the edges. Many types, particularly ivy-leafed, prefer some afternoon shade. Also consider planting scented geraniums, grown for their fragrant foliage.
Impatiens
These smaller mounding plants bloom in almost all colors except blue. They flower from spring through fall and are hardy growers as long as the soil is kept moist. Impatiens are known for doing well in the shade. They grow from 6 inches to 3 feet tall and wide. Use them as filler plants among taller, trailing species.
Purple Shamrocks
Grown for their large purple leaves, these plants also feature small white or pink flowers. They grow up to 10 inches tall and wide and thrive in the cool spring, necessitating replacement with warm-weather vegetation when summer arrives. Keep the soil moist and also admire the tiny lavender flowers as they bloom.