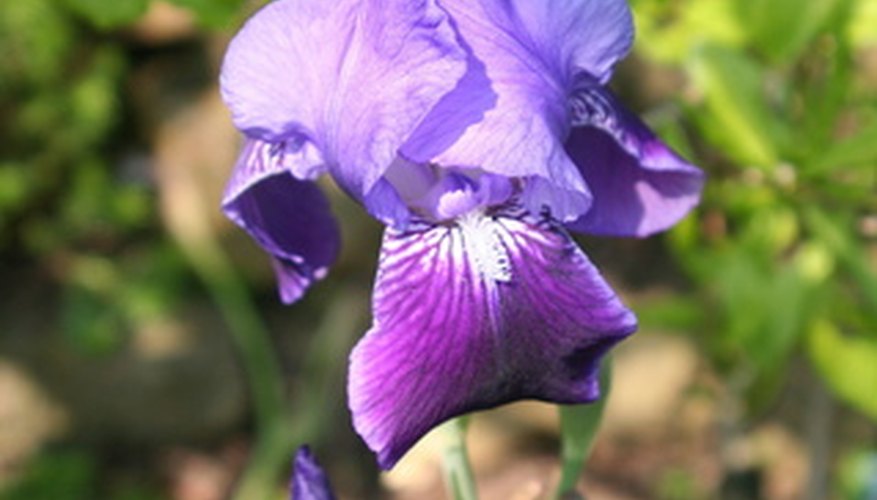 Perennials are the heart of any garden. These plants, which return year after year if properly cared for, are easier to grow and maintain than annuals, according to Colorado State University. Perennial plants are used as ground cover, to line fences and walkways and even as the focal point of the garden.
Bearded Iris
The bearded iris (Iris x hybrida) is a rhizome plant that is desirable for its large, showy blooms. These plants thrive in moist but well-draining soil in sunny locations. There are many cultivars that range in height from just 8 inches to over 4 feet. Bearded irises come in single or bi-colors ranging from blue and shades of pink and purple, to bright orange, yellow and creamy white. The bulbs, which spread year after year, should be planted so that the top of the rhizome is equal to the surface of the soil. The soil should not collect standing water or be overly wet, as this can cause the rhizome to quickly rot. Bearded irises grow best in USDA zones 3 through 10, according to the University of Illinois.
Blanket Flower
The blanket flower (Galardia x grandiflora) is a low-growing, spreading, flowering perennial. This plant is desirable for its ease of growth and long-lasting blooms, according to the University of Illinois. The blanket flower ranges in height from 10 inches to 2 feet, and has bi-colored, daisylike flowers that are usually a shade of reddish-orange with yellow centers. Deadhead this plant for continual blooming, and make sure the soil is very well-draining. This perennial thrives in full sunlight and is drought-tolerant and deer-resistant. Blanket flowers grow best in USDA zones 2 through 10, depending on the cultivar.
Catmint
Catmint (Nepeta x faassenii) is a perennial that features tall, slender blue spikes of flowers. The flowers have a pleasing fragrance and the plant has a neatly mounded shape, which makes it a good specimen or border perennial. The flowers bloom from spring to late summer. Catmint grows best in full sun and in moist soil. The height of the plant can range between 10 inches and 3 feet, depending on the cultivar. Catmint thrives in temperate climates with cool summers and mild winters. For this reason, the plant grows best in USDA zones 4 through 8.
Fringed Leaf Bleeding Heart
The fringed leaf bleeding heart (Dicentra formosa) is desirable for the fact that it will grow and bloom even in full shade, which is a rarity among perennial plants. The bleeding heart features lacelike foliage and drooping, heart-shaped, red, pink or white flowers. The bleeding heart needs rich, organic soil that is consistently moist in the summer to bloom well, according to the University of Illinois. Bleeding heart varies in height between 6 and 18 inches and grows best in USDA zones 3 through 9.
Heartleaf Begonia
The heartleaf begonia (Bergania cordifoia) is another perennial plant that grows well in the shade, although it prefers partial rather than full shady conditions. This small plant is desirable for the fact that the foliage is evergreen, although some cultivars have leaves that turn bronze. Either way, it makes for interesting winter texture. The flowers are pink or red and spread on rhizomes. The heartleaf begonia grows best in moist, well-draining, organic soils in USDA zones 3 through 8.