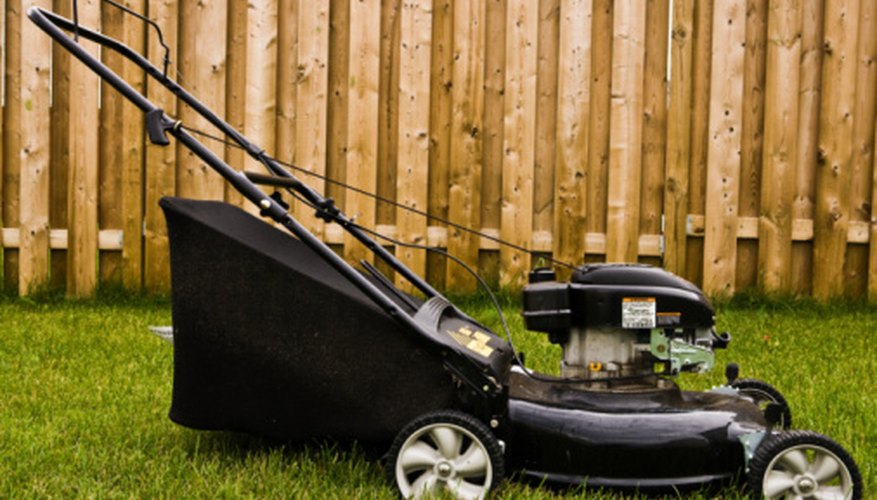 Small lawn mowers are pushed by property owners and maintenance workers to cut small residential lawns. These mowers use revolving blades to cut grass at an even length. Smaller push mowers often have a torque of less than 7 pounds per foot and travel up to 4 miles per hour. "Popular Mechanics" offered their picks of these mowers in March 2010..
John Deere JS36
The John Deere JS36 has a Briggs and Stratton engine with a torque of 7 pounds per foot. The engine also has a carburetor that starts without choking and prevents flooding. The handlebar is easily folded down and offers users three height adjustments. The drive system allows the mower to travel up to 3.6 miles per hour. As November 2010, the cost of the lawn mower was $400.
Craftsman 37436
The Craftsman 37436 has a torque of 7 pounds per foot and offers rear-wheel drive and a right-hand speed-control lever. The mower has a Briggs and Stratton key-start engine and features high-performance bagging and mulching. It also includes the "EZ Deck" wash system that allows owners to remove grass underneath the deck. The Craftsman lawn mower was found for as low as $340 online, as of November 2010.
Snapper SPVH21675
The Snapper SPVH21675 is a self-propelled mower featuring rear-wheel drive and speeds of up to 4 miles per hour. The three-in-one system quickly converts grass into mulch before discharging it on the side. The mower also has 6.75 pounds per foot of torque.The Briggs and Stratton engine allows owners to start the engine with no choke and keeps fresh fuel for up to six months. This Snapper push mower retailed for $450 as of November 2010.
Husqvarna 7021R
The Husqvarna 7021R is powered by a Honda GCV 160 engine. The mower offers a torque of 6.9 pounds per foot and has a fixed handle with a dual-thumb speed-control lever. Other features include a three-in-one cutting system that allows owners to mulch and to discharge from the side. As of November 2010, the Husqvarna lawn mower cost about $350.