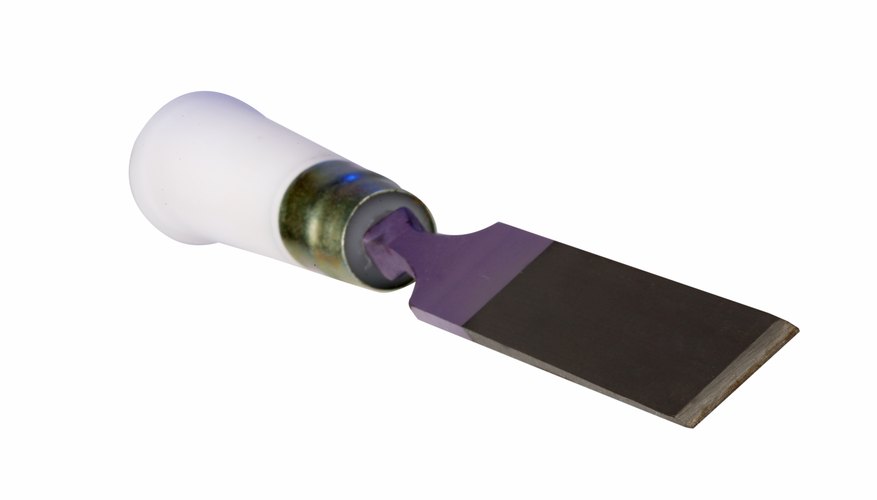 Masonry chisels are used to cut different masonry products, including bricks, concrete blocks, river rocks, flagstones, sandstone blocks and pavers. All of these products can be cut with a gas or electric paver or brick saw, but these methods are extremely loud. However, cutting masonry products with a masonry chisel is somewhat slow and takes a little time. Chisel cutting is much quieter though, and with a little practice, anyone can become good at it.
Measure with a tape measure the open space that requires a brick or piece of block to be cut . Be sure to compensate for the space needed for mortar. This will vary depending on the type of masonry product being used and the average size of the mortar lines in the rest of the product.
Transfer the measurement of the opening by marking the masonry product with a pencil. Use a framing square or a speed square to draw a straight guide line across the face of the masonry product.
Flip the masonry product over and transfer the mark to this side of the masonry product as well.
Place the blade of a masonry chisel in-line with the pencil mark. Hold the shaft of the chisel with one hand, take a small sledge hammer in the other, and strike the end of the chisel with the sledge hammer, so the chisel blade will begin to form a score line.
Flip the masonry product over to reveal the other line and score along that line also. Alternate between the sides of the masonry product scoring along the lines a few times per side until the masonry product breaks cleanly along the score line.