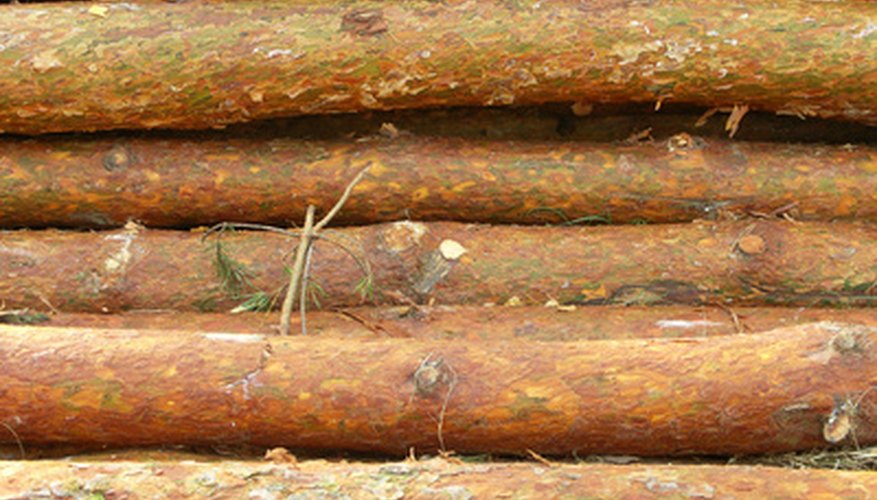 Enhance the appearance of your front or back yard with landscape timber for an attractive, affordable and neat addition to the landscape while serving as functional retaining walls or borders. These timbers incorporate a natural and rustic element of design in the overall landscape. Use them to form raised garden beds, edge flowerbeds or a certain area, or make garden steps, planters, pads, benches or patio table. It is already treated for outdoor use so you do not have to worry about natural elements such as rain or sunshine damaging it.
Landscape Timber Edging
Demarcate the area where you want to install the raised bed with powdered chalk. Dig a 3- to 4-inch deep trench over the area. Level the base of the trench with a length of lumber so it is even.
Lay the first course of landscape timbers over the edges of the trench. Butt the edges of adjacent lengths so they are flush. Cut excess length off with a handsaw.
Place the timbers of the second (upper) course in such a way that their joints are offset by 4 inches from the ones in the first (lower) course. Overlap the edges at the corners so the edge of a timber on the second course is not directly above the edge of a length below it.
Drill pilot holes at the corners of and along every 4 feet in the second course. Stand a 12-inch spike into each hole and pound it with a sledgehammer. Add soil inside the bed and level with a rake before adding plants.
Landscape Timber Driveway Border
Dig a trench next to the flowerbed or driveway with a shovel or hand-held hoe. The depth of the trench depends on how high you want the timbers to protrude above soil level. Dig a 3-inch deep trench for a 4-inch thick timber so an inch is visible above ground, or a 4-inch deep trench for a 6-inch thick timber so 2 inches show above ground level. Keep the trench 2 inches wider than the width of the timber.
Level the base of the trench with a length of lumber. This ensures a stable and even footing for the landscaping timber so they form a level and uniform border.
Lay the first course of landscape timbers in the trench. Place the edge of the first length flush against the edge of the driveway and place the adjacent one next to its edge. Trim excess length off with a circular saw.
Back fill the trench with soil to cover the gap completely. Tamp the soil down so it settles in place, and water slightly.