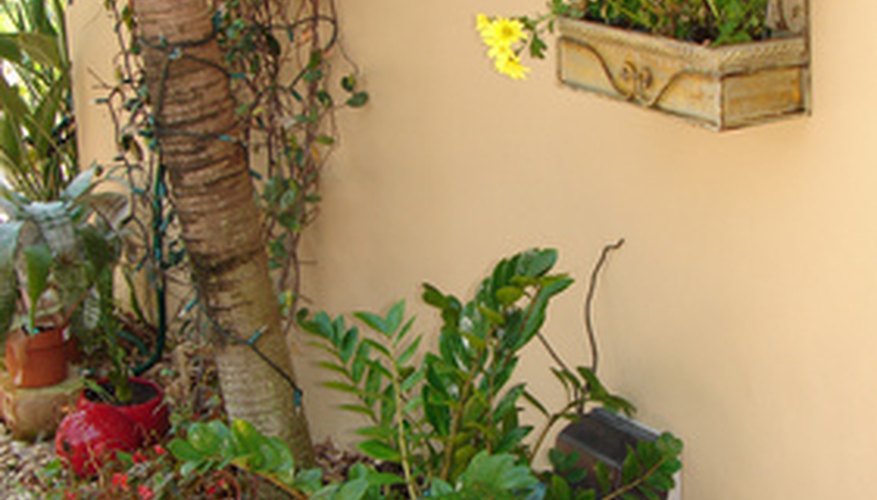 Morocco is a warm, semi-arid country, and outdoor living is a part of the Moroccan lifestyle. A Moroccan garden is like an outdoor room and, according to the website My Marrakesh, is decorated with all the attention you would give to an indoor room. Although your weather might not make it possible to enjoy your Moroccan-style garden all year-round, you can still decorate it in the attractive, colorful style of Morocco.
Courtyard Garden
According to the website My Marrakesh, Moroccan homes are traditionally designed around courtyard gardens. Although your house probably does not have a traditional Moroccan central courtyard, you can give it a Moroccan feel by building a walled garden connected to your house. Use mosaic wall tiles, terra-cotta patio tiles and terra-cotta or glazed clay urns to create an authentic Moroccan feel. Add attractive cafe-style furniture for outdoor meals.
Raised Garden Beds
Landscape raised garden beds along the wall of your courtyard garden to create an authentic Moroccan mood. The website House to Home recommends using lush, green plants such as arum, fatsia, phormium and decorative grasses. If you have the room, grow a small tree in the center of your courtyard or off to one side in a planter. Add low planters in front of the garden bed to create a multi-tiered courtyard garden.
Moroccan Decor
Decorate your garden with Moroccan-style decor to enhance the feel. Place Moroccan lanterns around your garden both as decorations and sources for nighttime lighting. During warm weather, place decorative pillows with sequins and metallic designs on chairs and benches. Place a fluted bowl filled with water and floating flower blossoms in the middle of the table as an elegant dinner centerpiece. Add a Moroccan tile fountain to the courtyard to bring the gentle sound of flowing water.