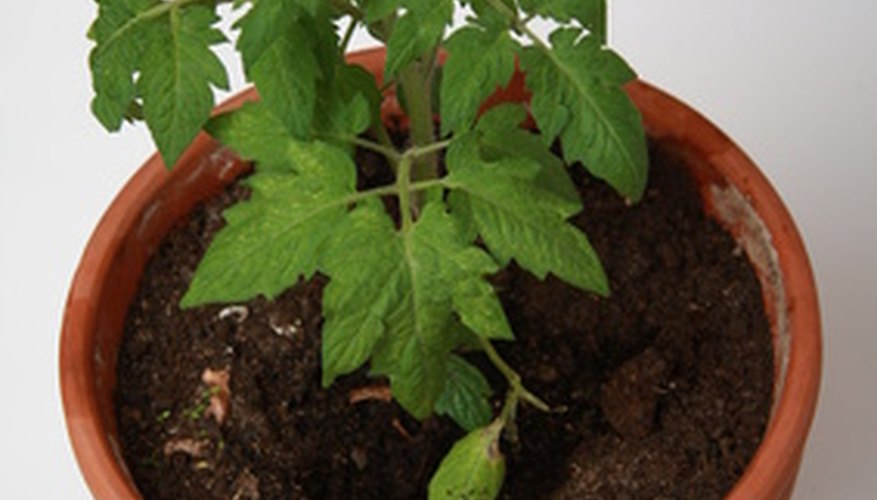 Tomato plants thrive in a sunny location in any container, as long as soil is well-drained and high in organic matter. Container-grown plants do require more frequent watering and fertilizing. According to the University of Colorado Extension Office, soil dries quickly in containers and fertilizers may be leached from the soil from frequent watering. Choosing the right container depends in part on your personal preferences for appearance, but there are some guidelines you should follow.
Select a flowerpot with straight sides. Typical plant pots that taper at the bottom tip easily under the weight of large plants. Those with straight sides provide better support and are less likely to topple in the wind.
Choose a pot that holds at least 5 gallons of soil and has a diameter of at least 20 to 22 inches. Tomato plants produce massive roots systems to support the mature plant. Without adequate room to grow, roots cannot physically support the plant and cannot provide the water and nutrients the plant needs.
Examine the bottom of the pot for drainage holes. Plastic or terra cotta pots typically have several holes in the bottom for drainage. Drill four to six ½-inch drainage holes evenly spaced around the bottom of the pot, if your plant pot does not have drainage holes.
Fill the plant pot ¾ full with lightweight potting medium. According to the Cornell University Extension Office, garden loam or potting soil should not be used alone in containers for growing vegetables. Mix equal parts peat moss, all-purpose potting soil and perlite to make your own potting medium. Add 4 teaspoons of lime and 1 cup of 5-10-10 fertilizer per bushel of potting medium.
Plant one tomato seedling per 5-gallon pot. Remove the leaves on the bottom 4 to 6 inches of your tomato seedling. Position the plant into the soil so that the top is 3 to 4 inches above the soil level. This encourages roots to form along the section of the stem under the soil and creates a strong root system.
Fill in around the plant with fresh potting mixture. Firm down with your hands to secure the plant. Water thoroughly until water runs free from the bottom of the pot.
Place in an area that receives full sun for at least six to eight hours a day.
Water when soil feels dry an inch below the surface. Check the soil often, as soil in containers dries quickly. Your tomato plant may require daily watering.
Apply water-soluble fertilizer designed for tomatoes following the recommended application on the package. Fertilize once every 10 to 14 days until fall.