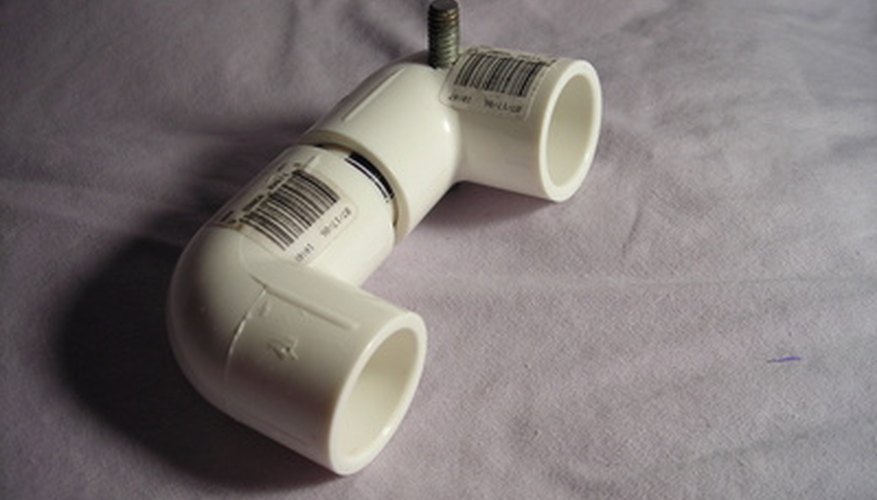 PVC pipes and fittings are sturdy plumbing materials that can be used as decorative and functional elements in your garden. Create lightweight structures that won't rot by joining lengths of pipe together using a variety of T, elbow, angled and slip fittings. PVC garden structures can be decorated with acrylic paints, exterior spray paint or latex paint to hide the underlying materials and create attractive garden designs.
Arbor/Trellis
Build a garden arbor or trellis using PVC pipes and fittings. Whether you need horizontal support for berry vines, vertical support for climbing roses or a decorative statement for a garden entrance, PVC pipe is a flexible and durable building material.
Planters and Stands
Build planters for your garden by gluing sections of PVC pipe together along the sides to form ridged walls for the planter structure. Use a urethane glue designed for PVC pipe. Create plant stands by joining four lengths of pipe for the legs of the plant stand with a cross-type design at the top where the plant can sit.
Furniture
PVC garden furniture holds up well in the elements and can be an attractive addition to patios, decks and gardens. Types of garden furniture you can make with PVC pipe include planting tables, chairs, picnic tables, occasional tables and loungers. Add outdoor cushions to make seating more comfortable.
Gazebo
Make a gazebo frame for the garden using a combination of large and small diameter PVC pipe. Use large 2-inch diameter pipes for the vertical supports and smaller 1-inch pipes as the horizontal structure. Look for plans and kits you can use to make PVC gazebos from online retailers.
Fence
Build a PVC fence around your flower, or vegetable garden to help keep rabbits, deer and other intruders away from the space. Make the fence structure with PVC pipe, and then wrap it with chicken wire or other wire mesh to enclose the space without blocking the view. PVC pipe also makes a strong decorative fence along the garden border, without the wire addition.
Bird Feeder Stand
Make a stand with a pedestal to hold a bird feeder from PVC pipe. After painting the pipe, cover it with petroleum jelly to help keep the squirrels from getting to the bird food.
Greenhouse
Construct a small or large greenhouse for your garden using small or large diameter PVC pipe. Build the vertical and horizontal structure with the pipe, and then cover it with thick plastic sheeting. Plans for making PVC greenhouses are available online.