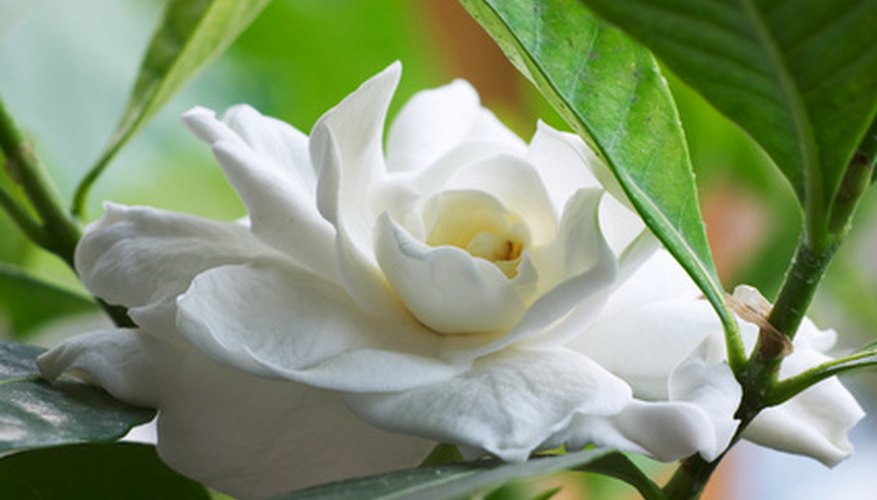 Gardenias, also known as cape jasmine, are a native to southern China, Taiwan and Japan. The flowers are pure white and have an intoxicating scent that is used in perfumes, body lotions and household products. The blooms begin in the spring and last through summer, and are surrounded by dark green leaves. Gardenia is an evergreen bush that thrives in warmer regions, so some care is needed to help it survive through the cooler winter months.
Stop fertilizing after late summer. This allows the bush to begin going into a dormant stage. Fertilizing after August, causes new growth to form, which will be more susceptible to winter damage.
Cut back on the watering to only once or twice a week beginning in early fall up until the first frost. After the first frost, only water the plant twice a month.
Prune the gardenia bush back to half its size in late fall. Make the cuts at a 45-degree angle and use sharp shears to make clean cuts so the plant is less susceptible to insects and disease.
Apply a 2- to 3-inch layer of mulch around the base of the plant. Avoid letting the mulch touch the main stem of the bush. Use shredded bark, chopped leaves, pine needles or compost.
Cover the bush with a burlap bag when the temperature drops below freezing. The bag should be large enough to fit the bush easily, so as not to break any branches. When the temperatures are above freezing, remove the burlap bag from the bush.
Remove the burlap bag in the spring after the last chance of frost has passed, begin watering the bush again two to three times per week and fertilize every other week with a balanced fertilizer. Also reapply the mulch so there is a 1- to 2-inch layer of mulch around the base of the bush.
Tip
Grow gardenias in containers that can be brought indoors during extremely cold winters.