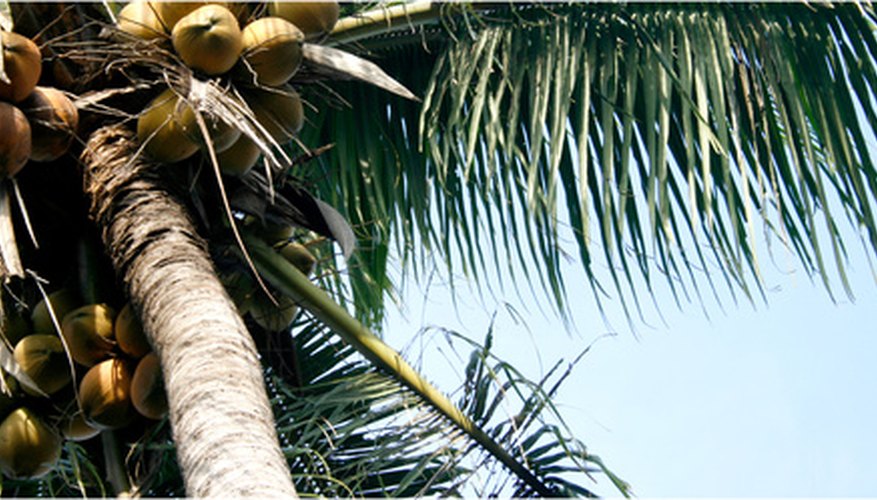 California gardeners seem to have it all: lots of sunshine and a year-round growing season. Unfortunately, for those who want to grow the coconut palm (Cocos nucifera), California doesn't have enough year-round heat. There are a few microclimates in the state that will support a coconut palm's requirements, but overall this is a challenging tree to grow in most of the state. Plant your coconut palm in early summer in California.
Choose the warmest, sunniest area in your California garden in which to plant the coconut palm. Elevated areas will be warmer.
Amend the soil in the planting area with 5 inches of sand and 3 inches of loam. If you live in a coastal area in California, reduce the ratio of sand to 3 inches. Spread the amendments onto the planting area and use the gardening fork to mix them into the existing soil to a depth of 12 inches.
Dig a hole the same depth as the container in which the coconut palm is growing. The hole should be two to three times the diameter.
Remove the coconut palm from the nursery container and place the roots into the planting hole. Cover the roots with soil and use your fingers to spread it around and through the roots. Fill the hole one-third full with soil.
Fill the hole with water; when it drains, fill in another one-third with soil. Fill the hole again with water. When it drains, finish filling the hole with soil.
Tamp around the base of the coconut palm tree with your feet to ensure that all air pockets are removed from the soil.