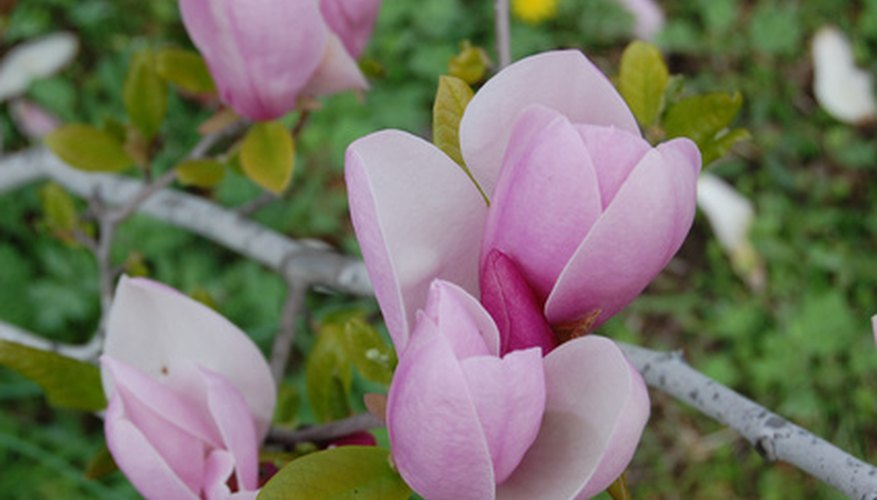 Magnolia is a species of about 80 trees and small shrubs that grow throughout temperate and tropical regions. Tree and shrub cultivators are popular throughout Asia and the eastern United States, according to the University of Florida. The tree is known for large, leathery, fragrant blossoms in hues of white, ivory, pink, purple or green. Because of their popularity as an ornamental tree, magnolias are available for purchase in many garden centers and nurseries. You can even purchase magnolia trees by mail order.
Determine which variety of magnolia that you wish to purchase. Make this decision based on the tree's eventual size as well as colors of blossoms and leaf shape. For example, Little gem magnolia is a dwarf magnolia tree with compact foliage. The tree will produce smaller blossoms over a five-month summer period. By contrast, Samuel Sommer is fast-growing and produces abundant, 14-inch-wide blossoms.
Check with your local nursery to determine if it has the varieties of magnolia that you want. If possible, purchase magnolias that were grown locally. These trees will be better adapted to your climate and more resistant to local diseases and pests. If your local nurseries don't have the cultivator of magnolia that you wish to grow, purchase a locally grown variety or buy the desired cultivator from a nursery that is not local and have it shipped to you by mail. Mail-order varieties are smaller and usually ship bare root. Locally grown varieties may be larger and are either purchased in containers or with root balls wrapped in burlap.
Examine the tree before purchasing it in the nursery. If you have a tree shipped to you through the mail, examine it then to ensure that it is healthy. Signs to look for include damage to the bark around the trunk, such as scratches in the bark or signs of insect damage.
Unwrap the root ball and probe the roots with your fingers. Make sure that the roots are fleshy and white. Brown, woody or broken roots are the sign of an unhealthy tree. Determine that the roots do not wrap around the tree trunk. Roots that wrap a tree trunk are known as girdling roots. Magnolia trees are more prone to girdling roots than many other species. As a tree grows, girdling roots can cut off the tree's circulation at the trunk.
Look over the bark on the trunk below the wrapped burlap to ensure that there are no hidden scratches or signs of insect infestation.
Explore the canopy of the tree by pulling back limbs to look deep inside the canopy. Make sure there are no broken limbs.
Pick a leaf off the tree and look at it closely. Make sure that there is no discoloration. Discolored leaves are a sign that the tree is declining from stress due to lack of water.
Purchase magnolia trees at a nursery that do not show any of the signs of declining health or future problems. If you have bought magnolia trees through the mail and had them shipped to you, send back any trees that show signs of declining health.