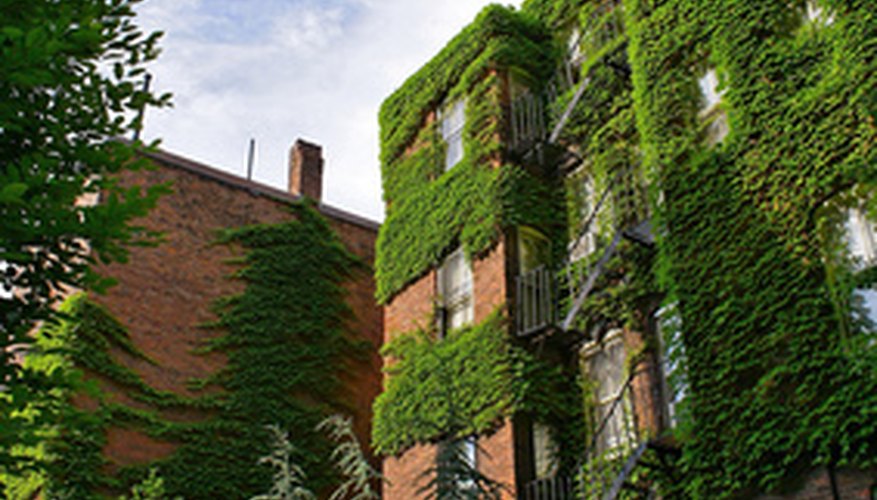 Different ivy plants exist as "true" ivy, belonging to the Hedera species, as well as plants that hold the same name though they belong to other plant species. Whether a true ivy plant or not, all ivy plants are dense climbers known for their tendency to creep up walls and fences.
English, Persian and Algerian Ivy
English ivy (Hedera helix), Persian ivy (Hedera colchina) and Algerian ivy are all "true" ivy plants; these evergreen plants are creeping vines known for ascending walls or fences. English ivy vines display glossy, dark green or variegated multi-lobed leaves and stiff stems. English ivy reaches up to 50 feet when climbing; when left to spread on the ground, it grows indefinitely in width and reaches a height of 6 to 8 feet. Persian ivy displays ovate or heart-shaped leaves in shades of green, gray or white; it is cold hardy and leaves reach 3 to 7 inches in width and 10 inches in length. Algerian ivy displays green multi-lobed leaves that grow to 5 to 8 inches in width. Ivies from the Hedera species prefer shade and rich, moist soil.
Boston Ivy
Boston ivy plants (Parthenocissus tricuspidata) are climbing broadleaf plants often employed in the same manner as true ivies. Boston ivy displays dark green leaves that take on orange and red hues during the fall season. This deciduous plant can reach a climbing height of up to 60 feet. Boston ivy spreads rapidly. While it is useful for covering supported areas quickly, it must be controlled to prevent covering of windows or doors, according to Clemson University Extension. Boston ivy thrives in partial shade to full sun and prefers moist soil.
Indoor Ivy
Indoor ivy consists of the Hedera species of ivy plants, yet the function and care is different. Though it is quick to spread and climb, when used indoors, it is widely used in hanging baskets. Clemson University Extension suggests choosing varieties with slower growth rates and small leaves for use in a pot. To control ivy growth, consistent pruning will give you the versatility to maintain ivy as a houseplant. If using ivy as an indoor plant, keep it in bright indirect sunlight; abundant light ensures healthy, colorful growth. Also, use a rich potting mix and water ivy once the soil has dried to 1/2 inch below the surface.