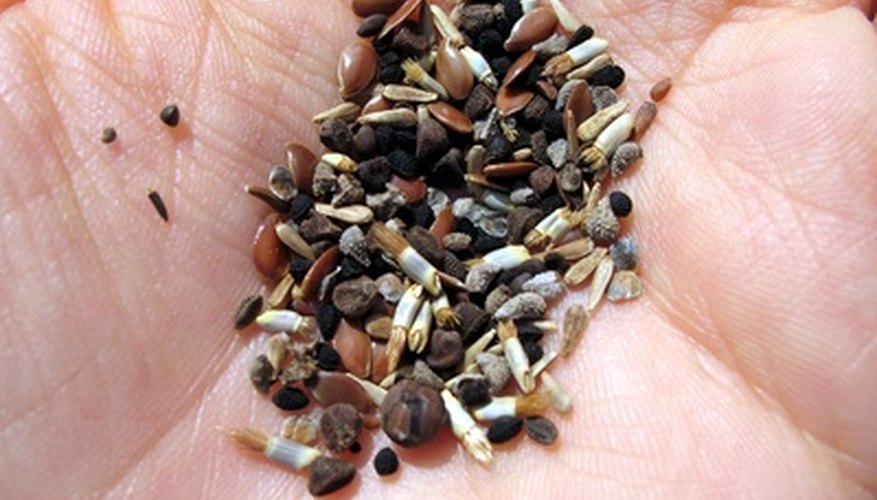 If you have a lot of flower beds to plant and not much time, you need flowers that grow fast from seed. The variety of flowers from seed is greater than what you'll find already growing in your neighborhood nursery. You'll save money too. For the price of two 4-inch potted plants you can buy a package of up to 100 seeds.
Nasturtium
A cool season flower, nasturtiums have finished blooming by the time the summer heat hits. The flowers and leaves are edible with a peppery flavor. Leaves are round and may be edged with a darker or lighter band of green. The plant either mounds or trails. The trailing variety may have vines up to 8 feet long. Colors include yellow, cream, orange, pink and an orange that is so deep it looks red.
Zinnia
Zinnias are the workhorse of summer annual flowers. Colors include everything but true blue. Flower sizes range from miniatures the size of a quarter on plants less than 6 inches tall to the size of a softball on plants 36 inches high. The daisy-like flowers have flat petals, quilled petals or ruffled. Several varieties are variegated with splashes of white or yellow.
Use zinnias in the cutting garden. The cut flowers keep for up to a week if their water is changed daily. Plant tall zinnias in the back of the flower bed and use short ones as an edging.
Sunflowers
Soak sunflower seeds for 24 hours in warm water for even faster germination. When you think of sunflowers you probably think of the 6-foot-high variety with one yellow flower nodding at the top of the plant. The flowers are up to 12 inches across and have a seed head that is 8 inches across. There are sunflowers that grow only 2 feet high and have many branches with lots of flowers per plant. Sunflowers come in cream orange, burgundy and a peach color.
Marigolds
Marigolds have a musky scent which is disliked by some gardeners. There are two varieties: French and African. The French marigolds grow up to 12 inches tall and come in orange, yellow and burgundy. The flowers are round, about the size of a quarter and have many petals. Petite marigolds grow to only 6 inches high. Use them as a border for your vegetable garden. They keep away pests.
African marigolds grow to 24 inches high and are yellow. The flowers are as big as golf balls but look like the French marigolds as far as shape.
Bachelor Buttons
Bachelor buttons are powder puffs of blooms in shades of white, pink and blue. Held on tall stems, the plants grow to 24 inches. The leaves are gray-green, narrow and from 3 to 5 inches long. Bachelor buttons are not particular about soil and will re-seed themselves throughout the summer.