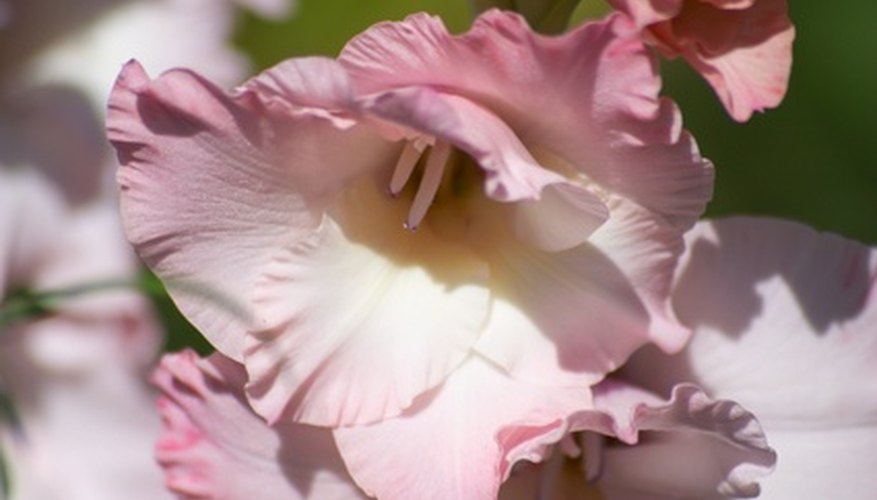 As spring begins to dwindle in May, a month that produces a mixture of spring rains and hot summer sun, many gardeners may feel a little down that their spring flowering bulbs are wilting and drooping. Luckily many late spring blooming flowers produce vibrant, fresh flowers in May, allowing for a colorful transition from spring to summer.
Bachelor's Buttons
Blooming in May and continuing through summer, Bachelor's Buttons (Gomphrena globosa) is a flowering shrub that produces fluffy, globular flowers in colors ranging from yellow to pink and purple, depending on the cultivar. The small plant, which reaches heights of about two feet, is notable for its bushy gray-green foliage and its butterfly-attracting quality. A native of Central America, Bachelor's Buttons requires full sunlight and well-drained soil. The plant should be grown in USDA gardening zones 3 to 8.
Confederate Jasmine
Boasting glossy dark leaves and waxy white blooms, Confederate Jasmine (Trachelospermum jasminoides) is a late spring flowering plant that produces its fragrant signature blooms in April and May. Native to China, the evergreen vine is a vigorous grower that will climb trees and trail trellises, reaching heights of up to 40 feet tall. The plant is not picky about soil, provided it's well drained. Confederate Jasmine should be grown in full sunlight or partial shade in USDA zones 8 to 10.
Gladiolus
Native to the Mediterranean, Madagascar and South Africa, the Gladiolus genus (Gladiolus spp.) contains thousands of cultivars that are grown across the world for their beautiful blooms. The plant boasts fleshy green leaves and stalks of floppy, brightly colored flowers that blossom in late spring or early summer, depending on cultivar. Gladiolus tend to reach an average height of between 2 and 5 feet. Varieties from the Grandiflorus group will bloom in May until well into autumn. Gladiolus plants require full sunlight and fertile, well-drained soil. Most cultivars of the plant can be grown in USDA zones 7 to 10.