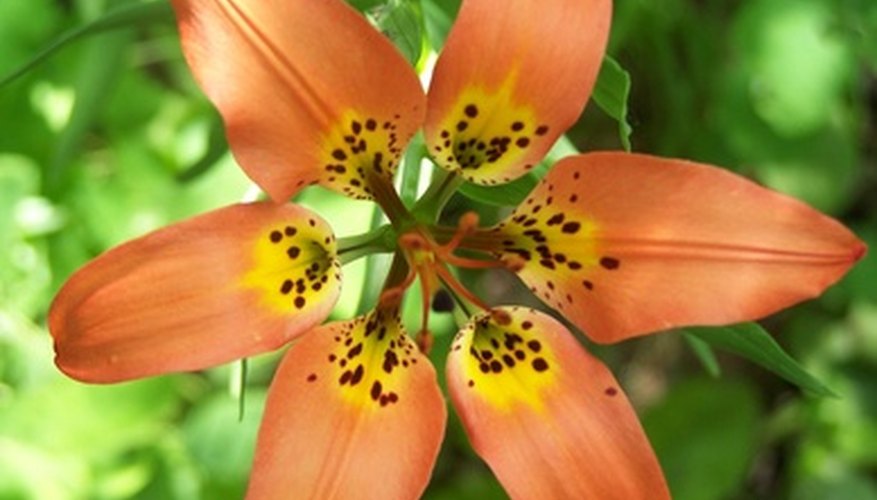 A staple in a summer garden, summer-blooming bulbs are planted in spring to produce their bright flowers throughout summer and into fall. When planting the bulb, choose a well-drained planting site with optimal soil pH levels of 6 to 7. Ideal planted among a perennial bed with other summer bloomers or tucked along borders in combination with other plants like shrubs, summer bulbs create a long-lasting design.
Canna
Canna (Canna) is a summer-blooming bulb that requires a springtime planting. Canna has a moderate growth rate and clumping habit that attracts hummingbirds to the garden. Growing 24 to 144 inches tall, canna flowers are striking blooms that sit atop the bright green foliage. They require a spacing of 9 to 15 inches wide to ensure adequate room to grow around the garden. Drought-tolerant, canna tolerates poor soils, making for a versatile bulb variety. The blooms come in a rainbow of colors including, red, pink, yellow, orange and bi colored where more than one color is swirled together. Canna bulbs require full morning sun to part shade and rich, well-drained soil that is moist. Plant canna in U.S. Department of Agriculture (USDA) hardiness zones 3 to 11.
Begonia River Nile
Begonia 'River Nile' (Begonia 'River Nile') is a perennial flower that blooms every summer to create a showy garden display. Growing 6 to 12 inches tall and wide, river Nile begonia flowers are planted in spring. River Nile begonias have a clumping growth habit and are ideal perennials to plant in containers or along a flowerbed or border for their low growing habit. The foliage on river Nile is deep emerald green with a ruffled edge in deep bronze. To keep the plant healthy, remove or deadhead the spent leaves as soon as they are noticeable. River Nile begonias require part to full shade and nutrient-laden soil that is well drained. According to Fine Gardening, "water when soil is dry to the touch. Avoid soggy conditions, but do not allow plants to wilt." Plant in USDA zones 10 to 11.
Peruvian Lily
Peruvian lily (Alstroemeria) is a perennial bulb that requires a spring planting. Growing 12 to 48 inches tall, Peruvian lilies emerge in late spring to early summer to last through summer. The flowers are oftentimes spotted with dark colors for a stunning garden flower. Peruvian flowers grow in a wide range of colors including, purple, orange, white, yellow, red and pink. Space the Peruvian lilies 12 inches apart to ensure room for growth. Grown along a garden pathway, they make long-lasting fresh-cut blooms. Peruvian lilies require full morning sun and well-drained soil to thrive. Plant in USDA zones 4 to 11.