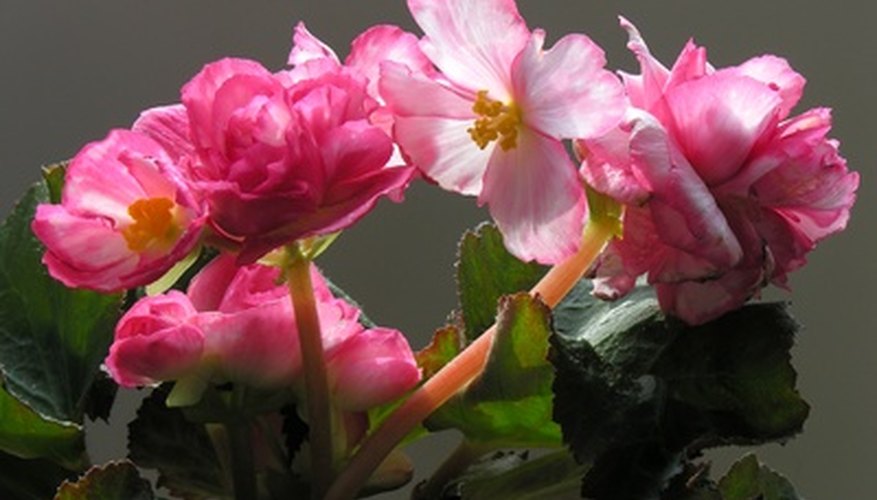 Begonias add color to shaded areas of the garden where other flowers refuse to bloom. A tender perennial, begonia does not survive over winter in areas prone to freezing temperatures. Instead, you must bring the begonias in to a protected area to over-winter them. Winterizing your begonia plants properly allows you to replant them for continued color the following spring. It requires a bit of work in the fall, but saves you the expense of purchasing new plants each year.
Dig up the begonias after the first frost causes the foliage to yellow and die back. Dig around the tuberous root system of the begonia with a trowel, taking care not to hit or nick the roots. Slide the trowel under the root and lift it out of the garden.
Place the begonia roots on a sheet of newspaper so that they don't touch each other. Set them in a warm, dry room and allow them to cure for two weeks.
Pull off the stem once the begonia roots are completely dry and brush off the dried roots on the bottom of the tuber. Shake off any excess soil, but don't wash them in water.
Fill a small box with dried sphagnum moss. Bury the begonia tubers in the moss so they aren't touching one another.
Place the box in in a dry, 45 to 50 degree F room over the winter. An unheated garage or basement usually offers a suitable storage area.
Replant the begonia tubers in spring after all danger of frost has passed. Plant each tuber 3 inches deep with the depressed side of the tuber facing up.
Things You Will Need
Trowel

Newspaper

Box

Sphagnum moss
Tip
Start begonias even sooner by planting them in pots indoors six weeks before the last expected spring frost in your area.
Warning
Check the begonia tubers once a month during storage. Throw away any that develop soft spots or rot.