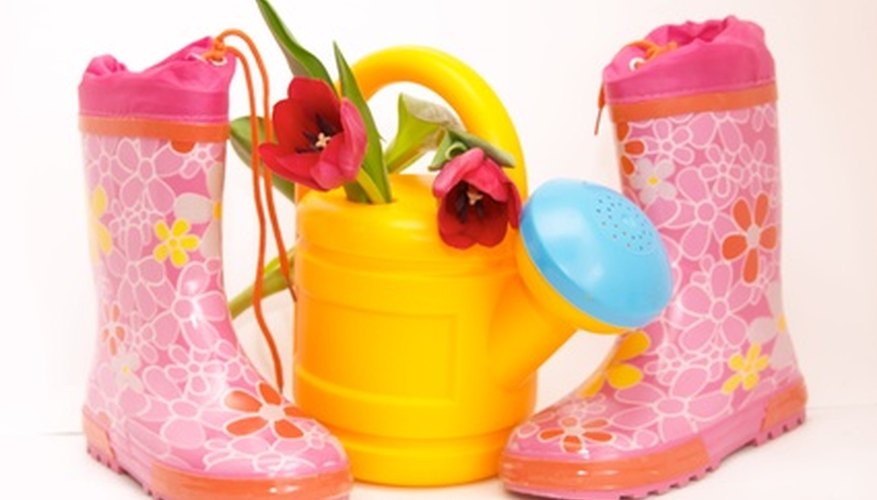 Preschool is the perfect time to get children started gardening. Gardening allows children to learn skills in a variety of subjects like math, science and language arts. It provides hands-on learning experiences that keep young children engaged and actively involved, while learning about nature and healthy eating. Use these preschool garden ideas to bring gardening into your classroom.
Seed Planting
Planting seeds in an easy way to get your preschoolers excited about gardening. Taking care of seeds will teach children about what plants need to grow--water, light, proper soil conditions and time. You can plant seeds indoors in cups or planters, or if you have the space, create a small outdoor garden for the children to plant and help maintain. Choose seeds that are easy to grow like sunflowers, beans, pumpkins and zinnias.
Teaching Ideas
Use elements from the garden to teach or review other concepts with the children. For math skills provide each child with a small cup of seed to sort by type and then have him count how many of each type he has. Use leaves for a similar math activity. Take the children on a nature walk to collect leaves and then have each child sort and count his leaves. The leaves can then be used to make leaf rubbings or collages.
You can teach or review colors with garden plants too. Cut pictures of different colored flowers, fruits and vegetables out of seed catalogs, magazines or grocery store circulars. Then discuss the different colors with the children, and sort the pictures by color. As a follow up, assign pairs of students a different color and have the pairs cut out their own plant pictures of their color and glue them onto a piece of colored paper to make a color collage. For a literature connection read Lois Ehlert's book "Planting a Rainbow" before or after this activity.
Field Trips
Plan a gardening related field trip for your preschoolers. Botanical gardens and science centers often have age appropriate programs and garden tours for school groups. Call around to local gardening stores and nurseries. You mind find one that is willing to give a tour to a group of preschoolers. Visit a nursery before planting your garden, and let each student choose a small flower or vegetable to plant in the garden. If planning a field trip isn't possible, invite a gardening expert, or even a parent who is an avid gardener, to speak to yours students.
Literature Connections
Books about gardening are another way to bring gardens to your preschoolers. "The Carrot Seed" by Ruth Krauss and "The Tiny Seed" by Eric Carle use stories to teach about what seeds need to grow and thrive. "Growing Vegetable Soup" and "Waiting for Wings," both by Lois Ehlert, describe vegetable gardens and butterfly gardens. "My Garden" by Kevin Henkes and "Tops and Bottoms" by Janet Stevens are fun tales about gardens that will spark preschoolers' imaginations.