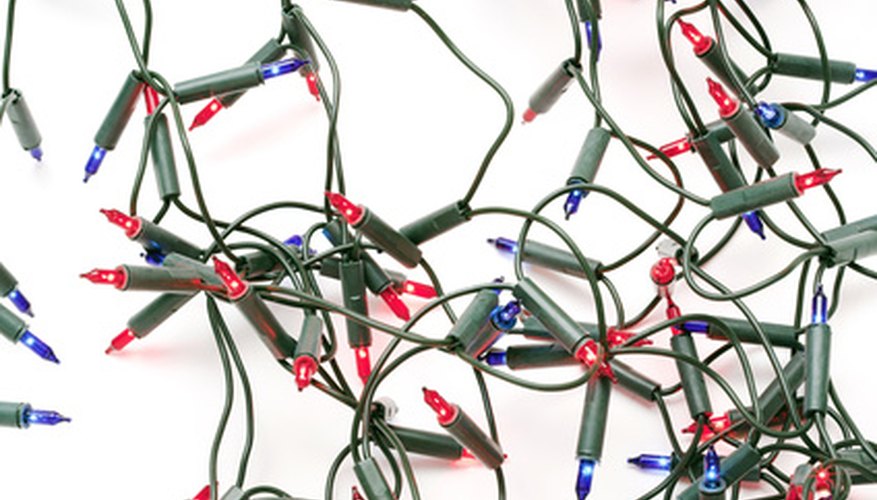 Flower boxes filled with blooming color add a decorative touch to your landscape and outdoor living area during the spring and summer. They can also become part of your holiday decorations with a few simple steps. One way to decorate flower boxes for Christmas is to design them to look like lighted tree gifts. Stand one on either side of your front door or line them along the walkway. Smaller lighted trees springing from window flower boxes replace standard wreaths or candles.
Measure the outside dimensions of the flower boxes. Cut a section of outdoor fabric to fit the outside perimeter of the box. The outdoor fabric should coordinate with your other outdoor Christmas decorations.
Staple the fabric to the outside of the flower box. Flower boxes attached to the house will have the front and two sides covered in fabric. Free standing flower boxes should have fabric covering all four sides.
Make a bow to fit the front of the flower box with outdoor ribbon. A simple loop bow similar to one you would make tying your shoes is sufficient. You could also purchase a pre-made bow suitable for outdoor use.
Attach the bow to the center of the front of the flower box with spray adhesive. To make the flower box look more like a package, glue a strip of ribbon horizontally and vertically across the front and sides of the flower box, then attach the bow over the cross point.
Strip the twigs from the bottom 8 inches of each willow branch. The stripped section will fit into the floral foam inside the flower box.
Spray paint willow branches metallic white or leave them natural if you prefer. Make sure that you use exterior spray paint. Allow the paint to dry.
Cut a section of floral foam to fit inside the flower boxes. Stand a row of willow branches inside the foam. Fill the boxes as sparsely or as fully as you like.
Wrap twinkle lights around the willow branches. Cover the floral foam with craft moss.