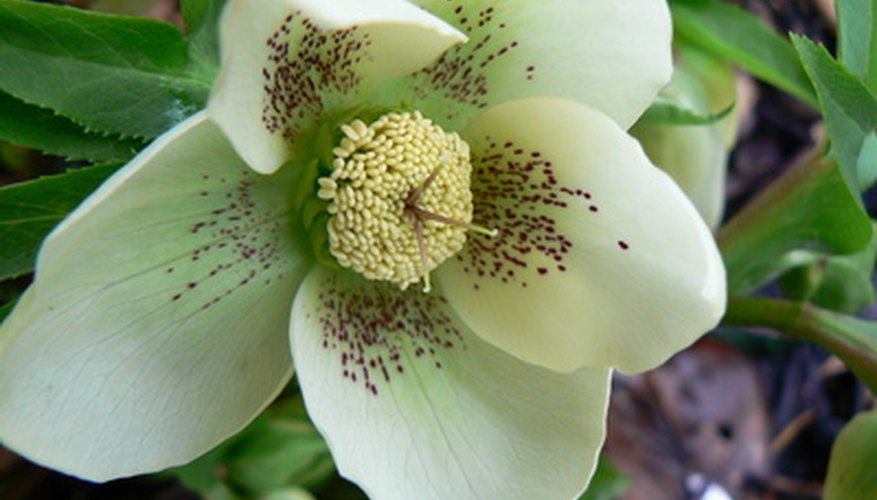 As winter brings cool soil temperatures, winter-blooming flowers emerge to light up the garden. A constant source of color, winter flowers are frost-tolerant plants that not only thrive in low temperatures, but have a long flowering season. Many winter-blooming flowers are evergreen and keep their foliage throughout the winter, when most other plants are gone. Nestled along a shade garden or planted along the garden walkway, winter flowers offer the garden a boost of color to landscape.
Kaffir Lily
A winter-blooming flower, Kaffir lily (Clivia miniata) blooms last into spring, creating a long-lasting perennial flower to grow among the garden. Growing 20 to 24 inches tall, Kaffir lilies have bright flowers that grow in a wide range of colors including orange, scarlet, crimson and yellow. The tall stalks of the Kaffir lily shoot above the green foliage to hold the cluster-like flowers. A slow grower, Kaffir lilies prefer light shade and well-drained soil that is humus-rich. Tucked along a rock garden or flowerbed, Kaffir lilies provide a constant source of color to the winter garden. The USDA hardiness zone for planting is 9 to 10.
Winter Daphne
Winter Daphne (Daphne odora 'Marginata') is a winter-blooming flower that produces fragrant blooms beginning in winter to last into early spring. Growing 3 to 6 feet tall and wide, winter Daphne have creamy pink flowers that open to white. Contrasting with the small flowers are the yellow-edged leaves that are oval in shape. Frost-tolerant, winter Daphne is an ideal flower to grow in the shade garden for a splash of color. Winter Daphne requires nutrient-laden, well-drained soil with a medium amount of moisture. It does not tolerate overly dry soil or transplanting. The zone for planting is 7 to 9.
Hellebore
Hellebore (Helleborus) flowers shine bright in winter for a showy garden display. Growing in coarse, erect clumps, hellebore is an evergreen perennial that grows 12 to 18 inches tall and wide. The flowers on the hellebore are saucer-shaped and grow in a wide range of colors including, green, lavender, yellow, white and pink. Grown along a flowerbed or border, hellebores provide a burst of color to the garden. Frost-tolerant, hellebore has shiny, green leaves that are leather-like to remain vibrant throughout the winter. To grow in other areas of the garden, divide the hellebore after flowering. Hellebore requires part to full shade and well-drained, humus-rich soil that is neutral to alkaline in pH. The zone for planting is 3 to 8.