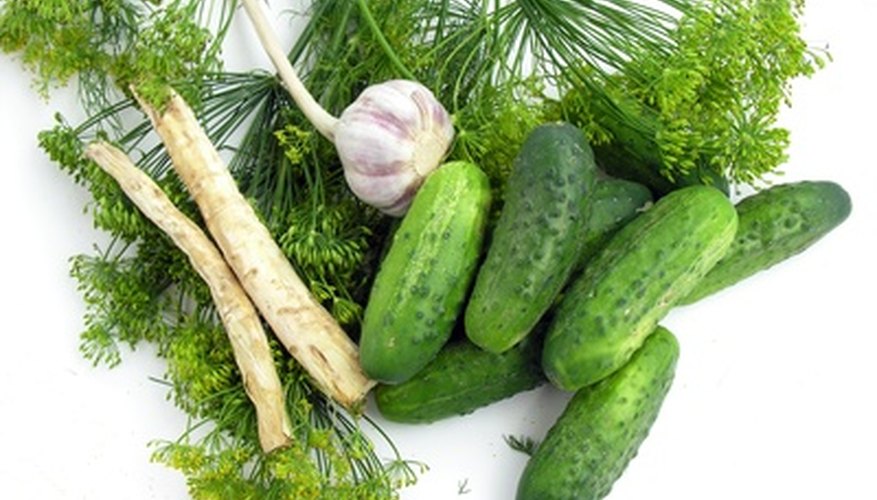 Tart, crunchy pickles are a low-calorie, fat-free treat that often serve as a garnish for sandwiches and an ingredient in potato salad and even sushi. Most pickles you purchase are also high in sodium—more than .04 oz. for every 5 oz. of pickles, according to NutritionData.com. Pickles are easy to make, and if you're concerned about your salt intake, you can reduce the amount you include in your homemade pickles. However, finding pickling cucumbers in stores, even at farmers' markets, can be difficult. Fortunately, it's not difficult to grow your own with the help of a trellis.
Turn up the soil with a hoe to prepare a garden bed that is about 2 or 3 feet wide by 6 to 8 feet long, depending on the number of cucumber plants you want to grow. Dig in a 1-gallon bucket of any type of compost for every 2 square feet of garden area. Build your cucumber garden against a fence, outbuilding, garage or other structure, if possible.
Plant seeds ½ inch deep and 2 to 3 inches apart in a nursery flat or several small pots with drainage holes filled with good potting mix. Start the seeds indoors three to four weeks before your final spring frost. Keep the soil moist and provide all-day sunlight. Set your flat or pots outdoors in the daytime, but bring them indoors at night. To sow your seeds directly into your garden bed, wait until the soil has warmed up and no further frost is forecast.
Dig small holes about 12 inches apart in your garden plot to transplant your seedlings when they are 4 to 6 inches tall. Make the holes large enough for the root systems of your young cucumber plants. Set one plant into each hole and pat the soil down around its base. Water the area well, but do not get the leaves wet.
Dig small holes about ½ inch deep and 2 to 3 inches apart to direct sow seeds into your garden bed, if you prefer. Wait until the soil has warmed up and no further frost is forecast. Drop one seed into each hole, cover the seeds with soil and pat it down gently. Keep the area damp until germination appears; your cukes should sprout within about 10 days of planting. When your plants are 4 to 6 inches tall, thin the weaker seedlings out, leaving about 12 inches between plants.
Prop up one or more sections of privacy lattice against your fence, garage or other structure, filling up the entire length of your cucumber bed. Secure the lattice with nails or with nursery tape or twine. If you must plant your cucumbers in an open area, away from any fences or buildings, you can sink several tall plant stakes (either wood or plastic) into the ground and tie your lattice to them.
Gently move the tops of the young plants onto the trellis to train young cucumber vines onto the trellis when they begin to send out tendrils. Wrap one or more tendril around the bottom of the trellis. They will continue climbing without further help.