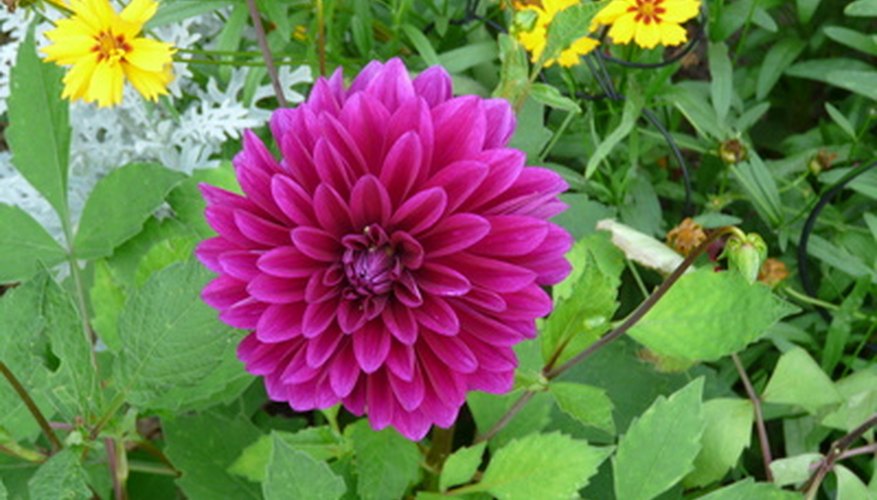 Dahlias (Dahlia pinnata) require good-draining soil with at least 5 to 6 hours of sunlight. This perennial flower comes in many different colors, sizes and forms, with the exception of true blue. Dahlias form underground tubers as they grow. When planting these tubers, make sure that each tuber has at least one eye or bud. Frost can damage dahlias, so early outdoor planting requires extra steps of protection.
Pull weeds from the dahlia planting site. Loosen the soil to the depth of 10 in. with a shovel. Break up large dirt clods. Spread 5-10-10 or 5-10-15 fertilizer at the rate of 2 lbs. per 100 sq. ft. Work the slow release fertilizer into the soil with a rake. Mix well with the loosened soil at the bottom.
Dig a hole large enough to lay down the dahlia tuber on its side with the top of the tuber 3 in. from the surface. Drive a 4- to 6-ft. bamboo stake at the end of the hole to provide support for the growing dahlias later.
Lay the dahlia tuber in the hole and cover with soil. Lightly firm the soil down on top of the plant. Do not press hard enough to compact the soil.
Plant the rest of the dahlia tubers 36 in. apart. Cover the dahlia bed with 4 to 6 in. of straw to protect the dahlia tubers from frost.
Remove the straw around the middle of May or after all danger of frost is gone. As the dahlias grow, mound soil up a few inches around the stem.