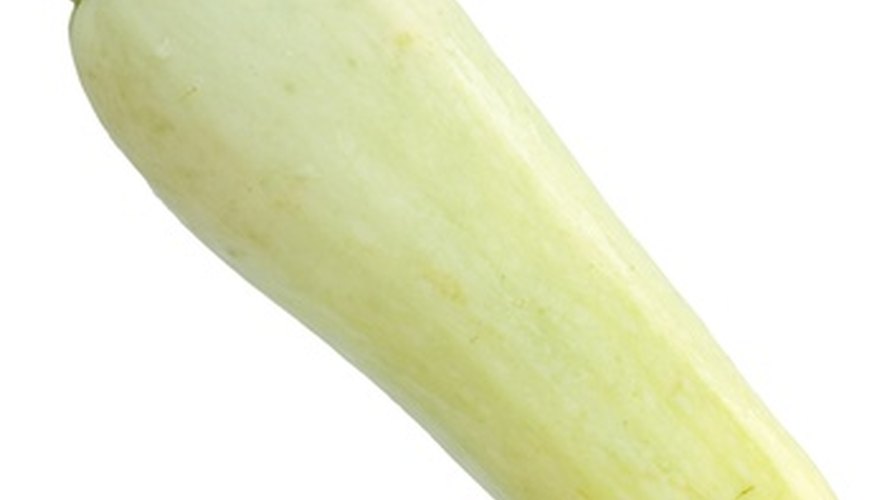 Drying, one of the oldest methods of food preservation, is a recommended means for preserving extra summer squash for later use. (Freezing is the other recommended way; canning is considered unsafe.) Summer squash, including yellow crookneck, zucchini, white scallop, patty pan, straight neck and cocozelle, may be dried for use in soups, stews, breads or other baked goods. Slices may be added directly to soups or stews before simmering, while slices are usually chopped for use in baked items. Ten pounds of summer squash will yield approximately ¾ of a pound of dried squash.
Heat a gallon of water with 1 teaspoon of citric acid to boiling. Slice summer squash into ½-inch slices. Place squash slices in a wire basket and blanch in boiling water for three minutes. Immediately cool summer squash in ice water.
Drain squash and place in a single layer, with no pieces touching, on dehydrator drying trays. Set the dehydrator in a dry well-ventilated room.
Place dryer trays inside the dehydrator and set at 140 to 145 degrees Fahrenheit. Rotate trays and turn pieces every few hours for even drying.
Dry summer squash for eight to ten hours. Test squash to see if it is adequately dry by trying to break it. Slices must be crisp and brittle.
Allow dried squash to cool. Place in airtight containers. Store dried squash in a dark, cool dry place.