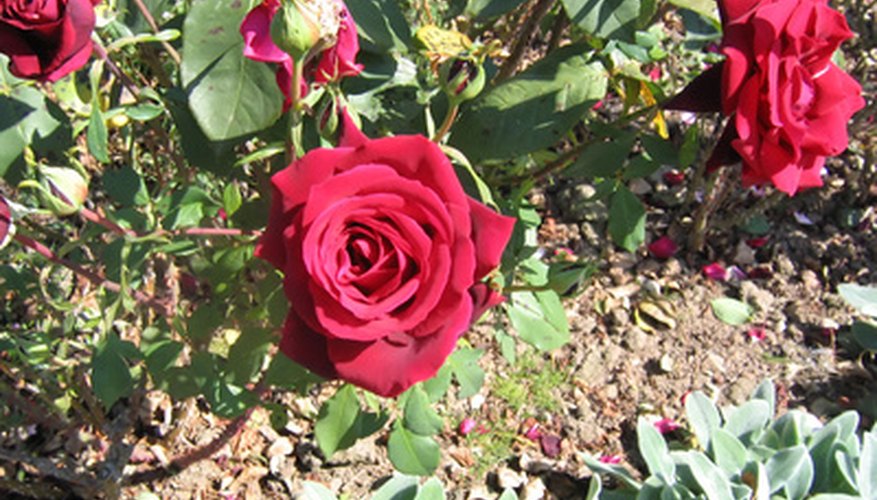 Roses are one of the most commonly grown blossoms in home gardens because an abundance of difference varieties exists. These versatile plants come in numerous shades including red, yellow and white and may be grown as bushes, which are ideally 12 to 24 inches high. Whether you have been growing rose bushes for some time now or are just getting started, achieving the ideal quantity and quality of flowers is often confusing. Using a few key techniques, get your own rose bushes to produce more blooms.
Plant your rose bushes in well-drained soil and in a location that is mostly sunny, but gets some shade in the afternoon. This ideal setup extends the life of the blooms.
Remove dead flowers by cutting an inch above the first leaf that has a grouping of five leaflets. This location is more likely to blossom again and taking out (deadheading) the spent flowers allows the stored energy to go into new growth.
Water your roses with one inch of water per week by soaking the soil beneath the bush. This schedule allows for continuous blossoming of your roses.
Fertilize your bushes with a nitrogen (N), phosphorous (P), potassium (K) rating of 5-10-15, 10-20-10 or use a specific rose solution. Roses are best fed in April and mid- to late June, but follow the instructions on the package for the amount and frequency of feeding.
Add organic matter, such as manure or peat moss, to enrich the rose bush soil. These substances help slowly release nutrients to keep your bush producing beautiful roses.
Things You Will Need
Pruning shears

Water

Fertilizer

Organic matter
Resources